Four months ago, freshman Jack Davidson was starting in his first-ever college basketball game. Now, he's a two-time conference player of the week and ranked second among all Division III freshmen in scoring.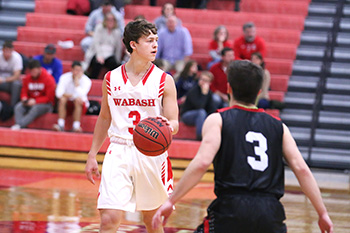 His love of the game started with a Fisher-Price basketball hoop in the backyard. Though it was always a dream of Davidson's to play college basketball, he never thought that he'd be making a name for himself so quickly.
"When I was recruited," Davidson said, "they said I'd have to work hard every day. I've already had a couple of big games early this season that I didn't think I'd have, so I'm just thankful that my coaches gave me this opportunity to excel so early."
The freshman point guard led the Little Giants to two big wins over the weekend. He scored a game-high 30 points in the win against Hiram Friday night, shooting 75 percent from the three-point line and 7 of 9 from the field. He finished with 23 points in the team's victory over Allegheny on Saturday.
Davidson was recruited from Hamilton Southeastern High School, where, unlike at Wabash, he didn't come close to starting on the varsity team his freshman year.
Davidson spent almost every day working in the gym, trying to get better, and he's never lost that mindset.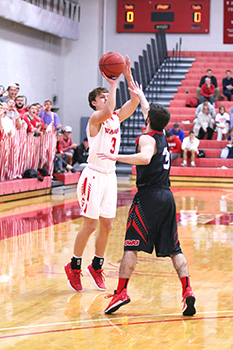 "College basketball is really tough," he said, "the physicality of the game – no matter who you're playing. Every game is going to be a grind, and you have to ready. I've always worked on my shooting, and now I'm focusing on my ball handling and finishing around the rim."
"Jack is that rare freshman who understands how hard you have to work," basketball head coach Kyle Brumett said. "Basketball is very important to him. He is often the first guy to practice and the last guy to leave. He is living my Wabash vision as a coach. He is a very good player and is working to be great."
Davidson has always been either a point guard or a shooting guard because, as he explained with a laugh, he's never been big enough to play any other position.
To step into the type of a leadership role that the point guard often has might seem like a lot of pressure for a freshman, but Davidson doesn't look at it that way.
"It's a great opportunity to help my team win and improve," he said. "We're developing as a team and working together, and I'm just trying to come in and do what I can to make the team better."
Davidson said he plays better when he gets to interact with the crowd, so when he saw the Chadwick Crazies in action, he knew he'd love playing on the Little Giant basketball team.
"It's more fun to play in front of a crowd, whether it's your fans or other fans," he said. "If it's the other school's fans, it's awesome to be able to play in front of them as they're heckling you and being able to shut them up. And when you're playing in front of your own fans, you just feed off of their energy. The students here are really into the games, and it's a lot of fun to play in that atmosphere."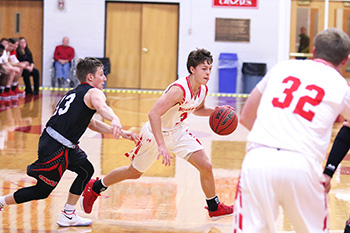 Watching Davidson dribble the ball up the court while calling out plays is a sight that Wabash fans should get used to. And, if they play close attention, Davidson has a very consistent characteristic once that play he called is in motion.
"My tongue is always out," he laughed. "It's always been like that, and it's probably never going to change. I don't know why – it just happens. My parents were probably the first ones who noticed. They'd ask me, 'Why is your tongue out?' And I wouldn't even know that it was!"
The weekend victories moved Wabash into a tie for fifth place in the North Coast Athletic Conference standings. The Little Giants head to Wittenberg University to play the undefeated, third-ranked Tigers at 7:30 p.m. Wednesday.