Hailed by Rolling Stone magazine as "a genre unto herself," composer and guitarist Kaki King will perform at 8 p.m. on Tuesday, Nov. 7, in the Fine Arts Center's Salter Concert Hall as part of the Wabash College Visiting Artist Series.
King plays her unique style of frenetic tapped guitar in tandem with incredible video imagery mapped onto her guitar. Over the past 10 years, the Brooklyn-based artist has released six diverse and distinctive albums, performed with such icons as the Foo Fighters, Timbaland, and The Mountain Goats, and contributed to a variety of film and television soundtracks, including her Golden Globe-nominated work on Sean Penn's film "Into The Wild."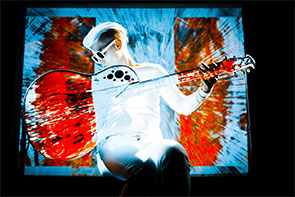 Her latest release, the provocative "The Neck Is A Bridge To The Body" is King at her visionary best: deconstructing and redefining the role of solo instrumental artist though virtuoso technique, imagination, and humanity. King's groundbreaking new multi-media performance uses projection mapping to present the guitar, not simply as an instrument, but a blank slate in the performance.
"The guitar is a shape-shifter," King says, "something that plays all types of music and really fills all kinds of roles. It's not always the six-string guitar that we all know and love. I've been playing guitar for more than 30 years. It's who I am and if anything, this project has made me even more familiar with it."
The concert is free and open to the public. Go to https://wabash.edu/boxoffice/ or call (765) 361-6411 to reserve tickets. This project is made possible by the support of the Indiana Arts Commission, the Tippecanoe Arts Federation, and the National Endowment for the Arts, a federal agency.