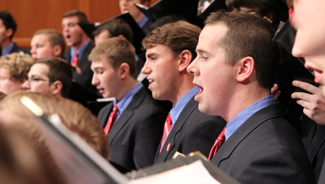 The Wabash College Glee Club will present a joint concert with the Taylor University Chorale at 7:30 p.m., Saturday, Oct. 28, in Salter Concert Hall in Fine Arts Center.
This joint concert will feature a variety of music from both ensembles, including African American spirituals, like "Elijah Rock," songs by contemporary composers like Stephen Paulus and Ola Gjelo, a few jazz inspired numbers, and several spirited pieces performed by the combined choirs.
The Taylor Chorale is directed by Dr. JoAnn Rediger, who has led the ensemble on many regional and international tours, including Greece, Ecuador, the Bahamas, and South Korea. They sing a variety of music, from major works with orchestra to hymns, spirituals, and vocal jazz. Taylor University is a private, faith-based liberal arts college located in Upland, IN.
The Wabash Glee Club, which celebrated its 125th anniversary in September, is under the direction of Reed Spencer and is accompanied by Ms. Cheryl Everett.
The concert is free and open to the public.