Wabash College put out the welcome mat for alumni and friends who returned to campus as its Homecoming Weekend, which ended Sept. 23.
The weekend opened with Chapel Sing, one of the College's most cherished rites of passage in front of Pioneer Chapel. Members of the Class of 2021 were tested on their knowledge of the words to "Old Wabash," arguably the nation's longest fight song.
The Leadership Summit, the two-day event that brought together the leaders of the National Association of Wabash Men, the Parents Advisory Committee, and the Liberal Arts Plus initiatives, met, engaged, strategized, and collaborated via board and committee meetings.
Alumni jumped to the forefront on Saturday with a multitude of activities. Primary among them was Homecoming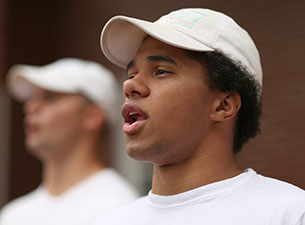 Alumni Chapel in Pioneer Chapel. The NAWM general meeting, which celebrates the spirit of Barney Hollett '36, recognized alumni service winners:
Jeremy Wright Young Alumnus Award: Kip Chase '03, Senior Director, Human Resources, Eli Lilly & Co., Indianapolis
Fredrick J. Urbaska Civic Service Award: Aus Brooks '61, Professor Emeritus of Biology, Crawfordsville
Clarence A. Jackson Career Service Award: Greg Castanias '87, Partner, Jones Day, Oakton, VA
Frank W. Misch Alumni Service Award: Hugh Vandivier '91, Assistant Director of Engagement, Wabash College, Indianapolis
Honorary Alumni: Dan Rogers, Professor of Spanish, Crawfordsville; Dwight Watson, Professor Emeritus of Theater, Crawfordsville
The Celebrating Leadership Reception followed in Knowling Fieldhouse prior to the football team's showdown vs. Hiram, a 25-21 Wabash victory in a packed Byron P. Hollett Little Giant Stadium.
The festivities concluded with the Glee Club's annual Homecoming Concert in the Fine Arts' Salter Hall. The concert featured plenty of Glee Club favorites, including the beloved "Old Wabash" under the leadership of new choral director Reed Spencer.