Bolstered by some of the finest undergraduate teaching in the country, Wabash College remains ranked among the nation's best colleges and universities by U.S. News & World Report in its annual rankings, which were released Tuesday.
Of more than 1,600 schools graded nationwide, Wabash ranked in the top tier of national liberal arts colleges by the publication, a designation that places the College among the best of all 239 ranked liberal arts colleges.
"We are delighted that U.S. News applauds the meaningful work of our Wabash faculty," said Wabash President Gregory D. Hess. "Our teacher-scholars are among the finest in the county, and the access that students have to them is the cornerstone of our exceptional Wabash liberal arts education."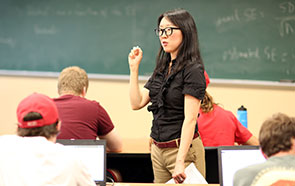 The College was ranked No. 16 nationally by U.S. News in Best Undergraduate Teaching, a measure of peer institutions where "the faculty has an unusually strong commitment to undergraduate teaching." It's easy to see how Wabash measures up with a student to faculty ratio of 10:1 and nearly 72 percent of classes with fewer than 20 students. Wabash is one of four GLCA schools to receive a top-20 ranking in any category.
U.S. News recognized Wabash as an A+ School for B Students, an institution "where non-superstars have a decent shot at being accepted and thriving – where spirit and hard work could make all the difference to admissions," according to the publication's criteria.
U.S. News rankings are based on a weighted breakdown of the following criteria: graduation and retention (22.5%), assessment of excellence (22.5%), faculty resources (20%), student selectivity (12.5%), financial resources (10%), graduation rate performance (7.5%), and alumni giving (5%). Wabash's listed alumni giving rate of 40% places the school inside the top-10 percent of ranked liberal arts schools nationally.
The U.S. News ranking comes shortly after Wabash was named one of the best institutions for undergraduate education by the Princeton Review in its 2018 listing of the top 382 schools across the country, ranking No. 4 for "Most Accessible Professors" and No. 17 for "Best Classroom Experience." Further, the College's Schroeder Center for Career Development received high marks for its efforts, ranking No. 1 nationally in "Best Alumni Network," and No. 3 in "Best School for Internships" to go with a No. 8 placement in "Best Career Services."
Additionally, Wabash was one of 40 schools nationally to be included in the bestselling book, Colleges That Change Lives: 40 Schools That Will Change the Way You Think About Colleges.
Founded in 1832, Wabash is the liberal arts college for men and is located in Crawfordsville, IN.