Lilly Endowment Inc. has awarded an $8.1-million grant to Wabash College to support programming for the Wabash Center for Teaching and Learning in Theology and Religion (Wabash Center) through 2021.
Begun in 1996, the Wabash Center is committed to enhancing education in theology and religion in North American theological schools, colleges and universities. Through workshops in Crawfordsville and strategies at educational institutions nationwide, the Wabash Center offers teachers in higher education a space for reflective conversation about the best practices for teaching.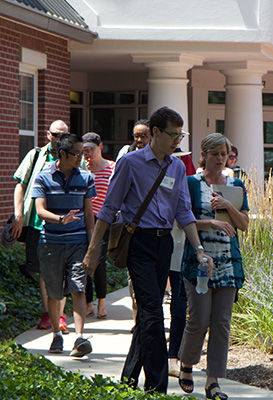 "Since its founding, Wabash College has valued excellence in teaching and learning; it is the bedrock of our mission," said Wabash President Gregory D. Hess. "The Wabash Center is a natural extension of that mission, and its work with religion teachers, theologians, and scholars is of the highest possible quality. The work of the Wabash Center reflects the values of Wabash College, and we are grateful to Lilly Endowment for its ongoing support of the Wabash Center."
"The support from Lilly Endowment is the lifeblood of our work and provides faculty the opportunity to focus on issues of teaching and learning," said Nadine S. Pence, Executive Director of the Wabash Center. "In complicated times, theological and religious studies are essential disciplines for understanding the world around us, and this support aids in our continuing engagement with faculty members."
The Wabash Center generally holds eight-to-10 workshops each summer, which are open to higher education faculty members in theological or religious studies, and who currently hold continuing positions. The workshops are by application and are limited to 14 participants each.
Of the current presidents and deans presiding at schools accredited by the Association of Theological Schools, 19 presidents and 45 deans have participated in Wabash Center programming. This high number speaks to the role that the Wabash Center plays in contributing to the leadership capacity of its participants.
"The Wabash Center has encouraged me to consider the breadth and depth of my work as a scholar and administrator and has nurtured my intellectual and personal development," said Dr. Leah Gunning Francis, Vice President for Academic Affairs and Dean of the Faculty, and Associate Professor of Christian Education and Practical Theology at Christian Theological Seminary in Indianapolis. "I count my Wabash Center experiences as integral to my teaching and leadership toolbox as I guide both faculty and students.
For educators committed to growth and development, the Wabash Center provides resources such as Teaching Theology & Religion, a quarterly peer-reviewed journal, and Teaching Links, a monthly e-newsletter; consultants to lead workshops, retreats, or faculty conversations; blogs that center on reflective teaching; and grants that promote sustained conversations about the methods and practice of teaching.
"A very important shift happens from scholar to teacher, especially within religion and the humanities," said Pence. "We give faculty space to ponder their vocational goals or callings, the craft of teaching, and to think about those topics within their institutional context. It is fulfilling to see these questions sorted out and to be able to give teachers the resources to find and strengthen their support networks as they continue to grow as educators."
Currently in its 21st year of programming, the Wabash Center has hosted 1,203 faculty members on the Wabash College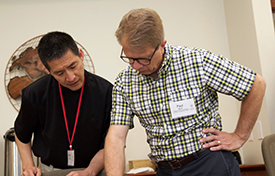 campus for sustained conversation about teaching and learning in 82 workshops and colloquies; awarded 1,425 grants to 488 institutions (totaling nearly $16 million); held 118 conferences to consider issues of teaching and learning; provided 237 pedagogical consultations on higher education campuses across the U.S. and Canada; and edited 632 articles from 882 authors in Teaching Theology & Religion. This work has contributed in a substantial way to enhance and strengthen teaching and learning in religious and theological studies in seminaries, schools of theology, colleges, and universities across the United States and Canada.
"The Wabash Center is nationally known for its outstanding efforts to improve the teaching skills of faculty in religion and theology," said Dr. Christopher Coble, Lilly Endowment's vice president for religion. "Excellent teachers in these fields are indispensable in educating a new generation of leaders who understand the role religion plays in shaping the world around us."
Since its founding, the Wabash Center's operations have been fully funded by Lilly Endowment with a total support of more than $58 million. Awards come in three-year cycles with this grant covering the 2018-21 term.