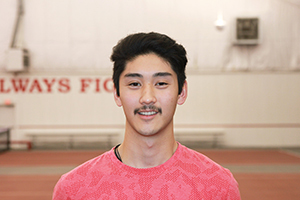 After a four-week boot camp, rising senior George Go III earned a Gold Badge Certification from Smart Launch Tech – a coding program designed specifically for liberal arts students.
The Crawfordsville, IN, native and German major was one of 15 students chosen to participate in this new partnership between Independent Colleges of Indiana and Eleven Fifty Academy. The program was held on the campus of Marian University in June. The industry- and state-recognized certification was awarded to Go III after he demonstrated his competencies in HTML, CSS, and Java Script; and built an e-portfolio, which he presented at the program's graduation.
In addition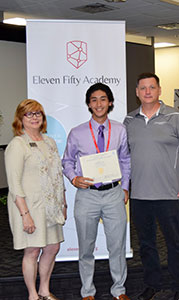 to coding, students were exposed to the wide range of career possibilities within the tech field, including project and marketing management. data analysis, compliance, security, and design. Students made field trips to Indianapolis tech businesses, speaking with leaders and employees and gaining exposure to the tech working environment and protocols. Students also had the opportunity to interact with the Indy Tech Fellows, new grads in a two-year Tech Point program to place talent with leading companies, fast-tracking careers and contributing to the Indianapolis community.
Smart Tech Launch was created to marry the technical skills of coding with the problem-solving approach of a liberal arts education. "Technology alone is not enough," Apple founder Steve Jobs said. "It's technology married with liberal arts, married with the humanities, that yields results that makes our hearts sing."
ICI, a nonprofit association representing the 30 private, nonprofit colleges and universities in the Indiana, and Eleven Fifty Academy, a nonprofit dedicated to producing technology and talent, provided the funding and in-kind services for this summer's proof-of-concept pilot.