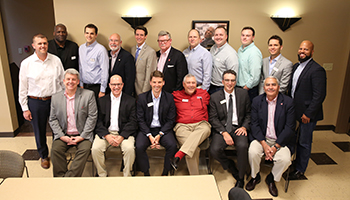 The NAWM Board of Directors officially installed new officers. Rob Shook '83 became president, Marc Nichols '92 became vice-president, and Ross Dillard '07 continues as recorder. Outgoing president Rick Cavanaugh '76 served his two-year term as president and handed the gavel over to Rob Shook.
The NAWM is also proud to announce Emmanuel Aouad '10, John Kerezy '77, and Ben Robinson '10 were elected to the NAWM Board of Directors. Aouad and Robinson were re-elected and will begin their second three-years terms. Kerezy will begin his first three-year term.
Emmanuel K. Aouad '10 works as a business process engineer leading improvement projects for State Farm in Claims Operations. He is also an independent musician and composer. Aouad performs at events geared towards raising money for children's charities. He is a member of the Alumni Advancement Committee and has started the Alumni Fun Run for Track and XC alumni as well as designed the MXI Newsletter which launches later this year.
Benjamin J. Robinson '01 is a commercial litigation attorney at the law firm of Broad and Cassel, in Orlando, FL. Prior to joining Broad and Cassel, Mr. Robinson served as Deputy Rules Officer and Counsel to the Judicial Conference of the United States Committee on Rules of Practice and Procedure. While living in Washington, D.C. Robinson was active in the National Capitol Association of Wabash Men. His past volunteer efforts for the College include recruiting, advising College externs, and returning to campus to support the Robbie Dreher Memorial Classic. Robinson and his wife, Debra, have two aspiring Little Giants, Isaac and Nathaniel, and a daughter, Penelope.
John D. Kerezy '77 teaches at Cuyahoga Community College in Cleveland, OH, where he also began one high school speech and debate program and now coaches another. Mr. Kerezy served as class agent for 11 years, stepped aside, then resumed class agent activities in 2016. He ran his own public relations company for nearly 20 years, and earned more than a dozen state and national awards for both his writing and public relations activities. He has served on numerous non-profit boards, and also assisted The City Mission (homeless agency) for many years. He re-engaged with the College in recent years, and suggested collaborating with Wabash on a book, resulting in the publication of "Glory Reborn: A History of Wabash College and its Athletics from 1977 to 1982" in January. He lives in the Cleveland area with his wife Kathy, their son Tyler, and his father-in-law.