Wabash College's Commencement speakers, seniors Adam Burtner and Bilal Jawed, implored classmates to stay involved, and to make human connections in solving life's problems big and small during its 179th ceremony Sunday.
One hundred eighty-nine men received sheepskin diplomas from President Gregory D. Hess on a warm and sunny spring day on the College Mall. Burtner and Jawed were the featured speakers, per Wabash tradition, on an afternoon that celebrated the collective accomplishments of the Class of 2017.
Additionally, the College awarded honorary degrees to Stephen S. Bowen '68, Retired Senior Partner at Latham & Watkins and the Chairman of the Wabash Board of Trustees; Dr. John L. Myers '74, Professor of Surgery & Pediatrics at Penn State Health Milton S. Hershey Medical Center; and David N. Shane '70, retired CEO of LDI, Ltd., and member of the Wabash Board of Trustees during the exercises.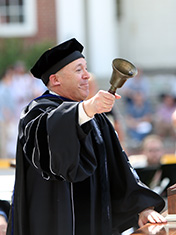 "Gentlemen, you have taken on the rigors of our College and have thrived under the many challenges you have faced," said President Hess. "You have emerged stronger for your perseverance, resilience, and courage. Men of the Class of 2017, we are proud of you and we know that you are equipped for lives of purpose and meaning. You leave your alma mater prepared to flourish, to be the men your liberal arts education has informed you to be, and to write your stories in the sky."
President Hess praised the graduates for their collective accomplishments in their time at the College, and sent them off with conviction for their future endeavors. "Leave this place with pride in your accomplishments and confidence that you will make a difference in this world. And be good, very good Wabash men."
Burtner used the words of Robert F. Kennedy – "a tiny ripple of hope" – to speak of the power of the individual in impacting lives in neighborhoods, nations, and the world.
"Will you make the decision to use your power and your intellect and your privilege to send these ripples for good," he asked. "Will you be that center of energy that Kennedy speaks of in fighting injustices in our society and solving the most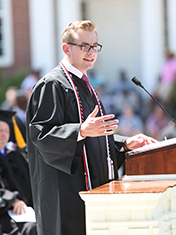 pressing problems in our communities? I am confident that you will."
Jawed stressed the importance of human connections, no matter how small, in being a huge initial step towards positive mental health and the solving of larger issues.
"We go after problems not because they are easy, but because they are hard. We become people for others not because we are perfect, but because we are human. Because we can," Jawed said. "For me, it was the face of every student who came up to me while I was studying in the library to say 'hi' for no reason at all. You, too, can be a solution to someone's big problem. It is your responsibility to be one of these faces, especially as you leave this campus."
Jawed concluded by asking his fellow graduates to use their good fortune to develop a notion for service to others. "Wabash doesn't live in these buildings but it lives in the people," he said. "Be a friendly face for another. Address the problem that you full well know that you may never fully solve but try anyway because you have the power that so many out there do not. Be the small solution to someone's big problem, and perhaps, there isn't that much to worry about. Perhaps we will tear down the barriers that divide us. Perhaps we will solve the unsolvable problems. Perhaps we will find peace. Perhaps we will find a way."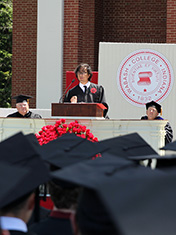 Before ringing the bell Caleb Mills used to call the very first Wabash students to class, President Hess used the words of Abu Tammam, a ninth-century Arab poet, to explain the bond he has with these 189 Wabash graduates, the first class he rang in as president four years ago.
"There is no love like the first love," he said. "You will be more equal than all other equals in my eyes. We will be brothers."
The day opened with a thoughtful Baccalaureate sermon, "New Harmony for an Unharmonious World," from the Rev. Libby Davis Manning, the Pastor of Ministry and Maturity at Christ the Savior Lutheran Church in Fishers, IN, and the Associate Director of the Wabash Pastoral Leadership Program.
"Graduates, this is exactly what a liberal arts education has prepared you for—for opening yourselves to that kind of a life—this kind of learning, this kind of reaching, this kind of connecting, this kind of tending to the well-being of your community," she said. "The most important thing for you to have learned here at Wabash College is that far from ending with your degrees today, your education, and the service to others that is its greatest purpose, has only begun. To seek after things larger than yourself. To reach beyond what you do for yourselves to what you do for one another. If any class can do this, it is yours. The world has never needed you more. Because we live in times that will call forth the best gifts that you have to share."