La Crosse, Wisconsin — Wabash College senior Riley Lefever captured his fourth national title with his victory in the finals of Saturday's 2017 NCAA DIII Wrestling Championship Tournament, becoming only the second wrestler in Division III history to win titles in all four seasons of competition.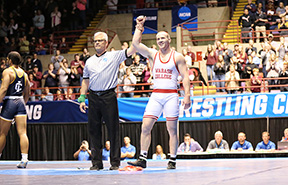 "This hasn't even sunk in yet," Lefever said. "You'll have to ask me what it means and how it feels again in a little bit. This was fun. They were all fun. I'm guessing it will all sink in later tonight or sometime tomorrow. Once I get back to school it's going to be crazy."
Lefever pinned Carlos Toribio 4:52 into their championship bout to win the 197-pound weight class and cap a four-year career after winning national titles at 184 pounds in 2014, 2015, and 2016.
"I got in my shot, he was moving in and it felt pretty good," Lefever said of his title win over Toribio. "He stuffed me pretty good. I had to switch outside. Once I pulled my head up I felt it. I started to try switch his arm and pull his hands in. Once I lifted him I knew I was in pretty good position to capitalize on it and that he was going to end up on his back. I was definitely thinking pin then.
"Whenever I step out on the mat and shake hands I want to dominate. I want to score a lot of points, take guys down, put them on their back and end it if I can."
"It was phenomenal, what a wonderful way to go out, and to boost our team into third place is unbelievable," Wabash head coach Brian Anderson said. "That's Riley's humble way there. He's always team first, and he goes out and does everything possible to help our team.
"He's a seasoned veteran. He's been on that stage three times before tonight and it shows. He keeps comfortable. His dominance doesn't surprise me because his mindset of constantly trying to score points just wears people down to the point where the points keep coming easier and easier as the match goes. The kid is a complete game changer, a program changer. He has been a huge part of taking Wabash College wrestling to the level we're at now, an expectation to come home with a team trophy."
Lefever finished 129-0 in matches versus DIII opponents. He scored two victories by pins in the first two rounds of the 2017 tourney on Friday before earning a berth in the finals with a 16-5 major decision versus Kacee Hutchinson from Greensboro College in Saturday's semifinal round.
Lefever joins Augsburg's Marcus LeVesseur as the only NCAA Division III wrestlers to capture four national titles. LeVesseur won tournament titles in 2003, 2004, 2005, and 2007.
"Winning four titles was in the back of my head after I won the first one," Lefever said. "I remember after I finished second at state my senior year, Coach (Danny) Irwin was there and told 'It's alright. We're going to get a national championship next year.' I was kind of like 'Sure.' I didn't really believe. I thought he was just trying to make me feel better because I just got my butt kicked in the state finals. But it came to fruition"
Lefever also received the 2017 NCAA DIII Most Dominant Wrestler by averaging 5.79 points per match over the course of the season. He also earned the National Wrestling Coaches Association Most Outstanding Wrestler of the Meet Award for his performance at the 2017 championship event.
Lefever dominated Division III wrestling over his four seasons of competition. In his 129 victories, 73 came by pin in addition to 18 technical fall wins. An excellent student as well as a talented wrestler, Lefever was named to the prestigious Academic All-America Team as selected by the College Sports Information Directors of America in 2016. He was named to the National Wrestling Coaches Association Scholar All-America Team in 2017 for third time in his career.
Lefever was joined by 2017 All-Americans Owen Doster (133 pounds), Devin Broukal (141 pounds), and Nick Bova (157 pounds). Bova earned a third-place finish in the tournament. Broukal placed fourth, with Doster claiming seventh place in his weight class. Doster also earned a place on the NWCA Scholar All-America Team. The four top-eight finishes for the Little Giants tied the school record for most All-America honors at a single tournament, set originally at the 2015 event.
Wabash finished third in the final team scoring with 62.5 points. Wartburg College won its 13th team title with a total of 219.5 points, finishing ahead of Augsburg in second place with a score of 79 points. Johnson and Wales placed fourth with 61.5 points.