The Improvised Shakespeare Company, an improvisational theater group from Chicago, will visit Wabash College's Ball Theater at 8 p.m. on Friday, Feb. 3.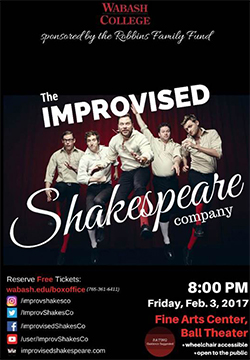 Based on audience suggestion, The Improvised Shakespeare Co. creates a fully improvised Shakespearean performance each time it takes the stage, providing an evening of off-the-cuff comedy using the language and themes of William Shakespeare. Nothing is planned, and dialogue and characters are created on the spot, enabling possibilities for a tragedy, comedy, or history. Each play is a completely unique experience.
Founded in 2005, The Improvised Shakespeare Co., will be making its second Wabash College appearance through support of the Robbins Family Fund.
Established by Clay '79 and Amy Robbins, the Robbins Family Fund is an endowment that supports student-centered events and activities at the College.
This event is free and open to the public. To reserve tickets, visit the Fine Arts website: www.wabash.edu/boxoffice/