Talking Veeps: Azari Visits Campus
by Richard Paige • September 30, 2016

Share:
Wabash College presents political scientist and blogger Julia Azari, who will talk about politics and the 2016 election, at 7:30 p.m., Tuesday, Oct. 4, in Hays Hall room 319.
Azari, Associate Professor and Assistant Chair in the Department of Political Science at Marquette University, will deliver an address titled, "The Vice Presidency and Party Politics." The talk will center on the nation's no. 2 executive position, as the lone vice presidential debate is scheduled for later that evening.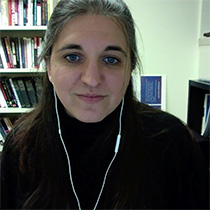 Specializing in the U.S. presidency, political parties, and political communication, Azari has written Delivering the People's Message: The Changing Politics of the Presidential Mandate, (Cornell University Press in 2014), and is a well-regarded public scholar and commentator on American party and election politics.
She is co-host of POTUScast, a podcast series on presidential politics, and a principal contributor to Mischiefs of Faction, a VOX blog that offers social science-grounded commentary on current events. Her contributions include the Washington Post's Monkey Cage blog, Pacific Standard, and POLITICO. In the 2016 election season, Azari has been serving as a live blogger on debate and election return nights for FiveThirtyEight.com.

"This is a great opportunity for students and the larger Wabash community to learn about the 2016 election and vice presidential politics from a prominent voice in the political blogosphere," said Shamira Gelbman, Wabash College Associate Professor of Political Science.
The event is free and open to the public. Attendees are invited to the Vice Presidential Debate Watch in Hays Hall room 104 following Dr. Azari's talk.