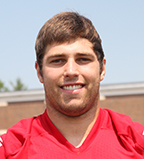 Wabash College is saddened by the news of the death of Austin Weirich, a 20-year-old junior from Goshen, Indiana, who passed away on September 10, 2016.
Austin was majoring in economics and minoring in business at Wabash, and had participated in the programs of the Center for Innovation, Business, and Entrepreneurship. He also had been a Democracy Fellow in the Wabash Democracy and Public Discourse initiative.
"Our hearts are heavy with sadness and we pray for Austin's family, friends, teammates, roommates, teachers, and all who loved this remarkable young man," said Wabash President Gregory D. Hess.
Weirich was President of the Independent Men's Association, an active member of the Wabash Acts Responsibly (WAR) Council, and played on the 2014 and 2015 Wabash football teams.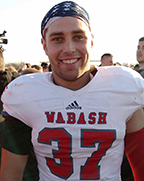 "This is a deep and tragic loss for Wabash," said Dean of Students Michael P. Raters. "Ours is a tight-knit community and this tragedy hurts us to our core. All of us should seek the help and support of one another at this difficult time."
Additional support services, including the Wabash Counseling Center, local clergy, and the Dean of Students' Office, are available to students, faculty, and staff.
Arrangements are pending.