Trekking Through Turkey: Wednesday, March 12
by Justin Lyon, Todd Vogel • March 13, 2003

Share: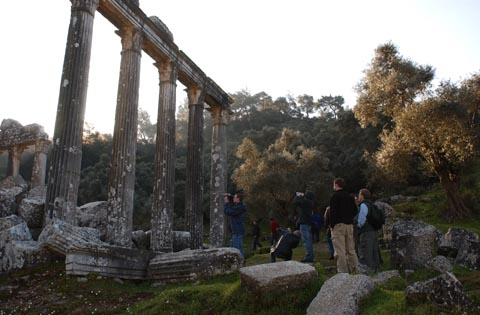 The Temple of Zeus
Director of New Media Justin Lyon and Todd Vogel '04 are accompanying a Wabash religion class on an Immersion Learning trip through Western Turkey, where students are researching ancient Christian sites. Through the use of digital video and pictures, the class will build a virtual archive upon their return to campus.
Wednesday morning, we were up by 5:45 A.M. and on the road by 7:00 A.M. for the six-hour trip to Bergama. On the way we stopped to visit the Temple of Zeus Lepsynus at Euromos where Professor Royalty got a chance to look at columns related to his research. His social-historical research into early Christianity includes an analysis of a metaphor from Revelations.
"It's nice to see these columns for myself; to take my own pictures," he said while pointing out key features to Professor John Aden and students who were taking their own pictures.
After the Temple of Zeus, we took a short detour to†zmir to pick up Gary Moore's missing luggage. Its whirlwind tour of the US complete, his luggage finally caught up with him. After living for five days with only the clothes he wore on the plane, Gary said that his next trip would see him packing much lighter.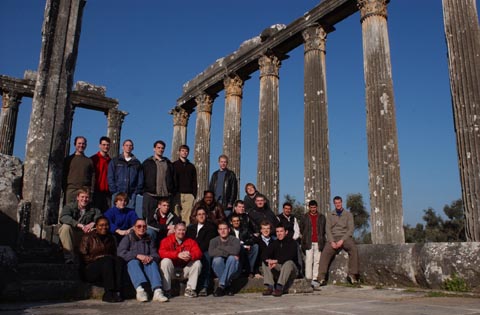 Little Giants at the Temple of Zeus

In Bergama, we visited the archaeology museum to see statues of the Emperor Trajan and a model of the Altar of Zeus; the original is now in Berlin. As we wound our way up the mountain to the acropolis of Pergamum, we noticed still-standing Roman aquaducts. The light and weather was perfect for the students to shoot the Temple of Demetre, foundations of the Altar of Zeus and the second largest library of the ancient world overlooking one of the steepest theaters in Asia Minor.

Wednesday evening, over an Efes Extra, Nick Dahl explained how the mixing of in-class work with on-site research "makes going to the monuments a lot more interesting to me. I get a lot more out of it than just reading. The guide is telling us stuff that we already know from our reading."

Sue Ellen Dobb, our guide for the trip, is an American living in Turkey for 40 years and guiding for 10 years. She complimented the men on their courtesy and gentlemenly behavior, "You are no Texas A&M!"

Tomorrow we leave for a brief visit of the Asklepion and then the long drive to Istanbul.