Leader. Authentic. Competitive. Supportive.
These words were used to describe Don Morel, who on Monday was named the 33rd head football coach in Wabash College history.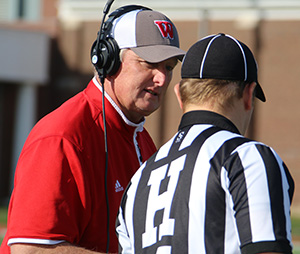 "We are very pleased that Don has accepted our offer to lead our football program," said Wabash President Gregory Hess in making the announcement. "Don's coaching resume is impressive, but it is his work with student-athletes and assistant coaches that makes him the ideal person to lead our team. His sincerity and genuine focus on making men better in the classroom and on the field is evident in all that he does."
Morel replaces Erik Raeburn, who led the Little Giants to 77 wins from 2008 to 2015. Raeburn has agreed to become the head football coach at Division I FCS Savannah State today.
Morel is a highly respected and innovative football coach with nearly 25 years of experience to his credit. He's been a part of five conference championship-winning teams, made four appearances in the NCAA Playoffs, and coached five All-Americans. But talk to the people who know Morel well and they will tell you the best things about him happen off the field.
"Don is a great football coach and an even better person," said Adam Cushing, a former Morel assistant coach and now offensive line coach at Northwestern University, a Division I program. "He cares a great deal for his players. He wants them to develop as men. He took a vested interest in them as individuals and not just football players."
Steve Johns, an assistant coach under Morel at La Verne, feels those connections were long lasting and a key to developing successful young men.
"He's laid back and doesn't have a huge ego," said Johns, currently the inside linebackers coach at the United States Naval Academy. "Kids are drawn to that. Don makes them feel comfortable. He is an innovative, high-intellect coach who always gets the most out of his players."
With experience on both the NCAA Division I and III levels, Morel's record of success is long. Getting his start at Cal State Fullerton as the offensive line coach from 1987-90, he was part of an offensive unit that produced the nation's second leading rusher in Mike Pringle and set 54 school records in 1989 alone.

He spent the next 16 seasons at the University of La Verne in La Verne, CA, first as the offensive coordinator and the last 12 as head coach. In his time as offensive coordinator, the Leopards averaged 34 points per game and won conference titles in 1993 and 1994, earning a NCAA Division III playoff berth in '94.
Morel was promoted to head coach in 1995 and won a third consecutive Southern California Intercollegiate Athletic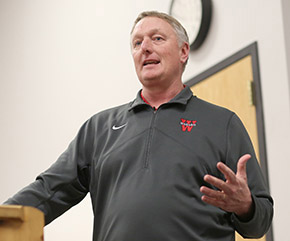 Conference championship in his debut season. In his dozen years as head coach, La Verne finished in the top three of the SCIAC standings nine times.
After working in the private sector for five years, Morel returned to the sidelines in 2011 as the Wabash offensive coordinator. Under his offensive tutelage, the Little Giants have averaged 37.0 points per game in that span, won more than 50 games, and made three playoff appearances. In the last three years alone, Wabash has averaged nearly 41 points per game and been ranked in the top-30 nationally in scoring offense.
Wabash College has a rich football history, currently ranking fifth all-time in NCAA Division III victories with 652. Since joining the North Coast Athletic Conference in 2000, the Little Giants have amassed a 147-32 (.821) record, won seven conference championships, and participated in the NCAA Playoffs eight times.