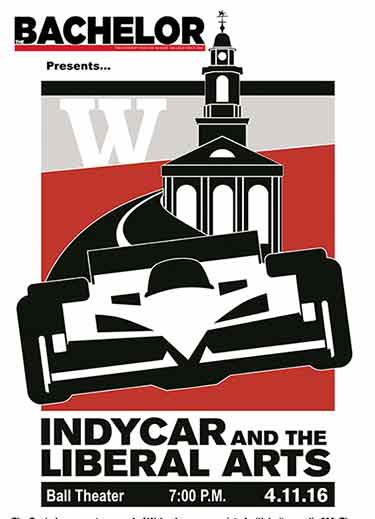 The start of the Verizon IndyCar series has featured exhilarating racing, two very diverse tracks, and what many experts call the most competitive field of drivers in 50 years. In less than a month cars will be at the Indianapolis Motor Speedway preparing for the 100th running of the "greatest spectacle in racing."
As the Indianapolis 500 celebrates its centennial, its rich history coexists with the histories and figures of several institutions across the state, Wabash is no exception.
At 7:30 p.m. Monday in Ball Theater "IndyCar & the Liberal Arts" will feature Wabash men associated with the race who will share their career stories, use of the liberal arts, and share advice in their execution of the "greatest spectacle in racing." The event is sponsored by The Bachelor.
"I'm involved with a few of these (panels) every year and haven't been involved in one in 30 years that's as stacked as this one," said Curt Cavin (father of Quinn '19), a veteran sports writer for The Indianapolis Star. Cavin, in addition to his decades covering IndyCar and the 500, has written on "everything this sports market has to offer."

The panel will feature Mark Miles '76, President and CEO of Hulman & Company, the parent to the Indianapolis Motor Speedway and Verizon IndyCar Series, team sponsors David '98 and Jonathan II Byrd '97, brothers and members of Jonathan Byrd's Hospitality and Restaurant Group family, and their driver, Conor Daly, a two-time Indianapolis 500 starter.
The panel's moderator will be Chris Denari '83, the long-time turn 4 announcer for the Indianapolis Motor Speedway Radio Network and TV voice for the Indiana Pacers.

Cavin said students should realize the panelists "were in their seats" once before. He said the event will be a great opportunity for him and his colleagues to share their stories and offer advice, to which a key dynamic of the group is its diversity in terms of background and experience.
"On this panel are the top guys in their fields," Cavin said. "I think we bring a wide swath of sports influence."
Miles is in his fourth year as President and CEO of Hulman & Company, previously serving seven years as the President and CEO of the not-for-profit Central Indiana Corporate Partnership. Miles served as Chairman of the Board of the host committee for Super Bowl XLVI in Indianapolis. From 1990 until 2005, Miles was CEO of the Association of Tennis Professionals and before that spent two years as an executive director in corporate relations at Eli Lilly and Company. Miles also led the organizing body for the 1987 Indy Pan American Games.

Denari, a member of the College's 1982 Division III National Championship basketball team, has announced for the Pacers on Fox Sports Indiana since 2006. He spent two years as the sports director at WXIN-TV, the Fox affiliate in Indianapolis. Denari has a long history at Butler University, spending 17 years as the radio play-by-play announcer for the basketball team as well as serving as an Assistant Athletic Director and Director of Sports Marketing.

David Byrd graduated from Wabash double majoring in philosophy and religion. He currently serves as Vice President and Director of Operations for Byrd Hotel Group, based out of Arizona, and a business development consultant for Jonathan Byrd's Hospitality and Restaurant Group, Indiana. David is a founder of Academia Church of Goodyear, AZ and involved as a TV host on the Total Christian Television Network.

Jonathan II started work in the family business at 11 years old, "cutting out biscuits at his father's KFCs." Along with his brother, David, he purchased ESPN Radio affiliate WXLW 950 AM in 2005. That same year the Byrds sponsored Buddy Lazier, 1996 Indianapolis 500 Champion, in a top-five finish in the race. Jonathan II lives in Greenwood and works on the business development side of the Jonathan Byrd's Hospitality and Restaurant Group.
Though not a Wabash graduate, Cavin said he lived in Crawfordsville for a time growing up. Cavin, a graduate of Franklin College looks forward to the opportunity to give back to some of the Wabash students like he's done with Franklin students.
"While I'm not a Wabash man, I've spent the last calendar year learning, investing monetarily, and I'm deeply invested in my son being here," Cavin said.

Conor Daly is recognized as one of the rising stars of IndyCar. The Noblesville native has started two Indy 500s and is competing for Dale Coyne racing this season.
Wabash students attending the event will have the chance to win a pair of tickets to the 100th running of the Indianapolis 500, May 29th.
The event will be free and open to the public.