Wabash used a total team effort on the road to defeat The College of Wooster Fighting Scots, 55-7.
What looked to be an even contest in the beginning turned out to be a lopsided victory, thanks in large part to four interceptions--two of which were returned for scores.
Wabash (7-0, 6-0 NCAC) struggled offensively for much of the first half, until Connor Rice and Mason Zurek would lead a two score charge in the last 1:22 of the second quarter. With the scores, Wabash would head to the locker room with a favorable 24-7 lead, and never look back.
Junior Austin Brown paced the Wabash defense with nine stops. But, it was the steady hands of Brown, Brian Parks, and AJ Clark that picked off the Scots' quarterbacks on four different occasions. Brown intercepted starter David Smith twice, returning one 41 yards for a score in the third quarter to increase the lead to 48-7. Clark intercepted reserve quarterback Gary Muntean, and returned it 58 yards for his first career interception and score to close out the victory.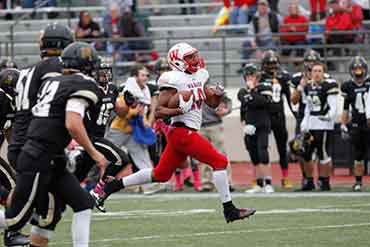 "Jalen (Alston) hit the quarterback's arm and I went up to go get (the pass)," Clark said. "Then he set a block for me and the rest of the team threw great blocks. I knew I just had to get into that end zone."
"Getting points off of turnovers was huge," Wabash head coach Erik Raeburn said. "It provides such a big lift. AJ and Austin did a great job with the pick-sixes to give us a huge shot in the arm."
Connor Rice was efficient in his effort, orchestrating seven total scoring drives. Wabash got to the red zone five times, and scored each time. Freshmen Ryan Thomas and Oliver Page picked up where they left off last week. Thomas made three catches for 67 yards, capped by a 38-yard touchdown reception near the end the second quarter. Page caught two passes for 61 yards including a 33-yard TD.
The touchdown pass to Page came less than a minute after Mason Zurek dove over the top of the Scots' defense 1:22 before halftime to stretch the Little Giants' lead to 17 points.
"The way we finished the second quarter with two quick touchdowns by Zurek and Thomas put a little distance between us and Wooster. I was really happy with the way we finished the first half."
Leading 24-7 at halftime, the Little Giants opened the third period with a seven-play, 70-yard drive, finishing with a Zurek one-yard touchdown run. Zurek ran for 76 yards and three TD on 15 carries and moved into third place on the Wabash career rushing TD list with 30.
Rice completed 14-of-23 passes for 228 yards and two scores.
"Connor made some good decisions, especially in the closing minutes of that first half," Raeburn said. "I thought he played really well today. I was a little disappointed with our blocking up front. We weren't great in the running game and I thought our pass protection wasn't really very good. We gave up four sacks today along with a couple of pressures in the first half. I thought settled down a little bit in the third quarter and played a little better up front. We'll need a better effort next week for sure."
Wabash held Wooster (1-6, 1-5 NCAC) to 57 rushing yards and 275 yards of total offense. Dan Gorzynski caught a seven-yard TD pass from Smith in the second period to cut the Little Giants' lead to 10-7. Evan Rutter recorded seven total tackles along with one of Wabash's three sacks in the game. The Little Giants finished with 11 tackles for losses totaling 35 yards.
"We play selflessly on defense," Clark said. "Each of us depends on the guys next to us. If I'm not the guy making the tackle, I know someone next to me will make it. We do our job as unit."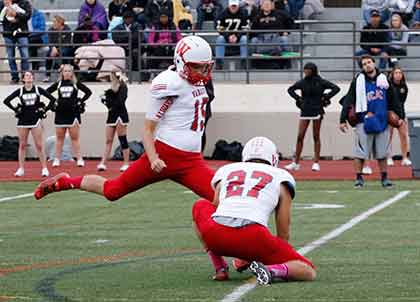 Andrew Tutsie was perfect on seven extra point attempts, allowing him to pass current offensive line coach and former Little Giants kicker Olmy Olmstead for sixth place on the Wabash all-time list with 104 PATs. It couldn't have been a better gift for Olmstead, who celebrated his 34th birthday Saturday.
"I'm happy for Andrew, but that probably wasn't very nice to pass Olmy on his birthday," Raeburn said jokingly. "I'm certain the only person that's happier for Andrew than I am is Olmy. Andrew works really hard and has done a great job this season. He's been dependable not only in the placekicking duties but on kickoffs, as well."
"A lot of the credit goes to the offenses we've had the last few years," Tutsie said. "My snapper, PJ Hadley, and holder Derek Fox have been on point, and that makes my job really easy. I try not to think about the records too much. I just go out and try to do my job."
Wabash returns home for Halloween contest against Ohio Wesleyan. The Battling Bishops (3-4, 3-3 NCAC) will travel to Crawfordsville fresh off a 27-22 victory over DePauw.