The opportunities for fellowships at Wabash College appear endless, as seven students earned major postgraduate fellowships, capping a semester of accomplishment and reward at the 183-year-old liberal arts institution.
The College has produced a Rhodes Scholar and six Fulbright recipients in the last two years to go with three other teaching fellowships, an excellent indicator of the high caliber of the student body.
"There is a tremendous depth of opportunity here," said Susan Albrecht, the Graduate Fellowship Advisor at Wabash College. "There are nationally-competitive fellowship and scholarship opportunities for a wide variety of our students. I hope that more of our young men continue to put forth their own candidacy for these major fellowships."
The ninth Rhodes Scholar in school history, Jacob Burnett '15, was one of 32 students in the nation to be named a Rhodes out of a pool of 877 candidates. The native of Mishawaka, IN, will work toward his master's degree at Oxford in the fall of 2015.
Three Wabash College students earned Fulbright Scholarships as English Teaching Assistants (ETA) in 2015. It marks the second consecutive year in which Wabash has had three Fulbright recipients.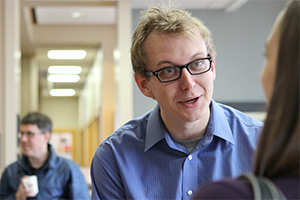 The trio of Ben Finley '15, David Gunderman '15, and Patrick Rezek '15 garnered Fulbright Scholarships as English Teaching Assistants (ETA) and plan to serve assistantships in Argentina, Germany, and Poland, respectively.
The ETA program places a Fulbright winner in a classroom abroad to provide assistance to teachers of English to non-native English speakers, while serving in a small role as a U.S. cultural ambassador. The age and academic level of classroom students varies by country, ranging from kindergarten to university level.
Finley, a native of Westfield, IN, was awarded the teaching grant and will be based in Argentina educating college-aged students seeking teaching licenses. His educational experience in Argentina will give him a greater fluency in the Spanish language and further his interest in literature and teaching. It's an opportunity to pursue a passion for education in an immersive experience.
Gunderman, from Zionsville, IN, will be based in Germany educating high school-aged students. Teaching figures prominently in Gunderman's plans, as he will enter graduate school following his Fulbright stint. Further, this opportunity is a chance to thank a few influential teachers.
Rezek, a product of Indianapolis, IN, earned the teaching grant and will be based in Poland working with either high school or university students. He hopes the small classrooms and hands-on learning environments in the country will help him build relationships quickly. Additionally, Rezek intends to observe the Polish educational system, specifically looking at the unique and rigorous admissions process into public and private universities, as part of his supplemental research project.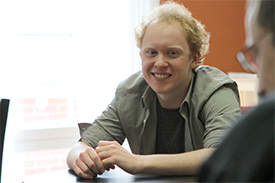 Additionally, John Davis '15, Pierce Velderman '15, and Luke Walker '15 each received teaching fellowships and two of them will be teaching abroad.
Davis, a native of Indianapolis, received a Woodrow Wilson Indiana Teaching Fellowship. Funded through the Lilly Endowment, Inc., the program seeks to place future teachers with STEM backgrounds – science, technology, engineering, and mathematics – into teaching in high-need Indiana secondary schools. He will serve his fellowship in Indianapolis.
Velderman, a native of Holland, MI, was awarded a United States Teaching Assistantship at Austrian Secondary Schools and will be based in Vienna. In addition to serving as linguistic models in classroom English instruction, these teaching assistants contribute to the promotion of mutual understanding between the peoples of the United States and the Republic of Austria.
Walker, a native of Wingate, IN, earned a Teaching Assistant Program In France fellowship and will be based in Lille. The program aims to strengthen English-language instruction in French schools by establishing a native speaker presence, while also providing U.S. students with excellent teaching experience and first-hand knowledge of French language and culture.
"A fellowship is one of the many ways a Wabash man connects and engages with the world at large," said Wabash College President Gregory D. Hess. "Earning such distinction not only opens doors for the individual, but speaks to the quality of the institution and the student body. I trust that Wabash men will continue to pursue these fellowships and enjoy the journey, wherever their intellectual interests lead."