The firm grip of Wabash College's defense was too much for DePauw in the 121st Monon Bell Classic. The Little Giants maintain an iron-fisted hold on the 300-lb trophy for a sixth straight year, 27-3.
The win solidified a berth in the NCAA playoffs. Wabash (9-1) will host Franklin (8-2) for a noon kickoff Saturday. Ticket details will be available Monday.
The defense dominated Saturday the previously high-scoring DePauw Tigers in front of a crowd of nearly 8,000. The Little Giants sacked Tiger quarterback Matt Hunt five times and pressured the pocket all day.
"He got away from us a few times and was able to get one deep one on us," Coach Erik Raeburn said. "I thought all 11 guys on defense had an incredible effort. Our guys up front played well, both against the run and pass."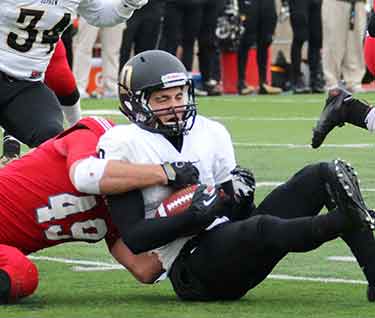 Cody Buresh '15 played a large role. The senior pass rusher sacked Hunt three times which set a new Wabash record for career sacks at 32. Darryl Kennon '09 holds the previous record at 30.
"He has to be one of the greatest pass rushers I've ever coached or coached against," Raeburn said. "He has incredible burst off the football. I know Coach (BJ) Hammer was a great pass rusher himself and he's done a lot of work with Cody.".
"I think we're definitely one of the 32 best teams," Raeburn said. "Our seniors deserve to get in the playoffs, but when you don't win the automatic qualifier, you have to cross your fingers and hope. I was confident we would get in last year at 9-1 so we'll just have to wait and see."
The sixth straight victory ties Wabash for the second longest win streak in the rivalry. The Little Giants won six in a row from 1949-1954, and set the record with seven in a row from 1921-1927. Wabash has outscored DePauw 212-50 during the streak while the Tigers have failed to score a touchdown in Hollett Little Giant Stadium.
"I always feel like we play terrible and barely scrape them out, but everybody else after the game acts like it was never in doubt," Raeburn said sheepishly. "It always seems really hard to me. I'm just really proud of how hard our guys play. A lot of people were questioning whether or not our guys were going to bounce back so I'm really proud of how our guys answered that."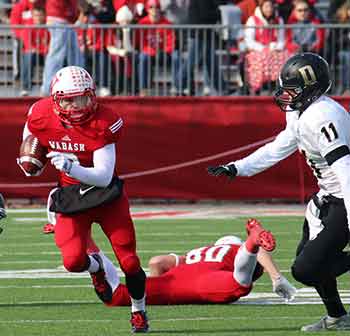 After a tough loss at Wittenberg, the Little Giants left little doubt about Saturday's outcome. An Andrew Tutsie '17 field goal and Connor Rice '17 touchdown pass to Drake Christen '17 spotted Wabash to a 10-0 lead.
Rice found Houston Hodges '15 deep down the sideline for 46 yards before firing the score to Christen a few plays later. In his first Bell-game experience, Rice completed six-of-eight passes for 80 yards and the score.
Michael Putko '16 also had a strong passing day going 20-of-31 for 183 yards.
"Michael played in this game last year and I think that's a big advantage," Raeburn said. "So I was really proud of Connor being able to control his emotions in his first Bell game. His first drive in the Bell game was exceptional."
Christen caught a career-high 13 passes for 103 yards and the touchdown. Sammy Adams '17 caught six passes for 56 yards and Hodges grabbed four for 88.
"We worked all week going against one-on-one coverage," Hodges said. "I think it showed today that we really put an emphasis on it. Drake won a lot today and I won a lot today."
DePauw's only big play occurred at the end of the first quarter. Hunt found tight end Jay D. Robinson for 74 yards. Robinson had nothing but green turf in front of him to score, but inexplicably fell down at Wabash's five-yard line. The Little Giant defense kept the Tigers out of the end zone and forced them to settle for an early second-quarter field goal, 10-3.
"A couple of the guys told our sideline to get up and support the defense (after the big pass)," Raeburn said. "Every play our defense stopped them, it seemed like the sideline got more and more energetic. To hold them to a field goal was huge. Even though the big pass play was deflating, to hold them to a field goal was a huge swing in momentum."
The Little Giants used that moment to answer with an 11-play, 75-yard drive capped by a short Mason Zurek '16 touchdown run for the 17-3 lead. Andrew Tutsie '17 tacked on a 19-yard field goal before halftime.
Zurek rushed for 49 yards on nine carries and Tyler Holmes '14 gained 76 yards on 24 tries. Each bruising back missed last season's Bell game due to injury. "The work Tyler put in to bounce back from that injury and all the hard work he did in rehab was incredible," Raeburn said. "To come back and play at a high of level as he played at this season is great. I have all of the respect for him in the world, as do all of the rest of the guys on our team."
Holmes was happy to be back but happier for his teammates. "We didn't get the conference championship obviously, but at the end of the day what matters is getting the Bell back to Wabash. It's a really emotional experience and something I'll cherish forever. I'll remember all the teammates and coaches that helped me do it along the way."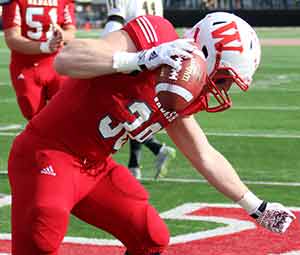 After a scoreless third quarter, Wabash eliminated any Tiger hope of a comeback when Connor Ludwig '17 blocked a DePauw punt and recovered it in the end zone, 27-3.
"Each Bell win feels great," Raeburn said. "It's such a big game and means so much to so many people. I don't think too much about six in a row, but obviously it's great for our senior class. This is the third senior class in a row to graduate having never lost the Bell. I know that's important to all Wabash men."
Bell day is one of the biggest days on the Wabash calendar. For the Little Giant football seniors, it's a lifelong memory.
"The goal-line stand re-energized us," Buresh said. "We were down, then we just made some plays. You could feel the fans get up and it recharged everyone. Not many people get to win all four years. A perfect record in Bell games is something that's rare and I'm very grateful to be a part of that."
Hodges called winning all four years the greatest feeling in the world. "You have no idea what this feeling is like," Hodges said. "Being able to see all those fans out there makes it one of the best things I'll ever be a part of. My heart is pounding right now."