Wabash College President Gregory D. Hess has announced the appointment of Michelle L. Janssen as the Dean for College Advancement. She will begin her tenure at Wabash on Friday, August 1.
As the Dean for College Advancement, Janssen will oversee the Annual Giving, Major Gifts, Advancement Services, and Alumni and Parent Relations functions at the College. She brings nearly three decades of successful fund-raising experience to Wabash, most recently serving as Vice President of Alumni and College Relations at Berea College, in Berea, Kentucky.
"Wabash was exceedingly fortunate to attract a large and talented pool of candidates for this position, and we are thrilled that Michelle Janssen will be joining our administrative team," said President Hess. "She has had success at small colleges and large universities, and she has worked in all aspects of Advancement work. I am excited to work with her as we enhance the culture of philanthropy at Wabash College."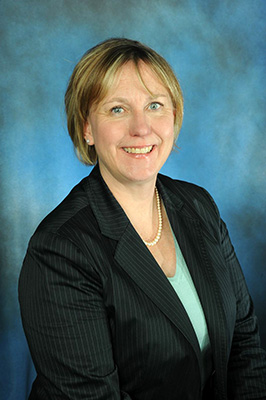 While at Berea, Janssen provided strategic leadership to a 43-person team charged with fund-raising, integrated marketing, communications, and alumni engagement.
"Wabash College transforms lives through its distinctive commitment to educating our nation's young men," Janssen said. "I am incredibly honored and excited to work with President Hess, a seasoned advancement staff, and an absolutely dynamic and engaged Board of Trustees to expand and enhance the circle of alumni, parents, and friends who support the institution through their philanthropic gifts and engaged service."
Prior to her service at Berea, Janssen spent nearly 20 years at her alma mater, Valparaiso University, where she served in a variety of senior leadership positions, including Executive Director of Development. She also directed Valparaiso's largest comprehensive campaign in history, the $200 million "Our Valpo, Our Time" campaign that exceeded its goal by $38 million. She also served as a major gifts officer in two earlier Valparaiso campaigns.
"As we imagine the future of Wabash as the liberal arts college for men, we have big plans to expand our academic footprint and provide unparalleled experiences for our students, in and out of the classroom," added President Hess. "In order to accomplish our ambitious goals, we must build on Wabash's historic commitment to philanthropy. Michelle's experiences at Berea and Valparaiso have prepared her to provide the kind of strategic leadership required for the College to be successful in its fund-raising and alumni engagement efforts."
Janssen also has fund-raising experience at Washington University in St. Louis and Lutheran Child and Family Service of Michigan.
"Michelle Janssen has senior leadership experience at two institutions that have wonderful advancement programs," said Wabash Trustee Ted Grossnickle, who chairs the Board's Advancement Committee. "I am convinced that she can help Wabash College finds its voice and articulate how incredibly important Wabash is in the higher education landscape."
Janssen graduated with honors from Valparaiso University with a degree in speech communication and public relations. She is a Certified Fund Raising Executive and is a frequent speaker and trainer in the areas of major gift solicitation and relationship building. She is a past-president of the 1,000-member Association of Lutheran Development Executives, from which she was honored with the Virgil Anderson Award for lifetime achievement in resource development and the President's Award for Volunteer Service.
"In terms of experiences, Michelle brings both breadth and depth to leading our Advancement Office team," said Joseph Klen, Associate Dean for College Advancement. "Her talents in alumni engagement and comprehensive fund-raising campaigns will be fundamental to our goal of expanding the philanthropic culture of the College. We look forward to working with her to build on our already robust Annual Fund and the immediate work of funding our new student housing project."
In May, the Wabash College Board of Trustees approved a $20 million student housing project that will add about 140 beds in six new buildings and will be ready for occupancy in the 2015-2016 academic year.