Wabash College's Little Giants turned in one of the most dominating performances in the 117 years of the Monon Bell Classic Saturday, hammering previously unbeaten DePauw, 47-0.
The rout started innocently enough with a 43-yard Spencer Whitehead field goal. The scoring ended before a delirious Little Giant crowd with a Derrick Yoder 43-yard run for the biggest margin of victory since 1952 when the Little Giants won by the same score. The 47 points tied a record for the third-largest winning margin in the game's history.
Wabash now has a 55-53-9 lead in the all-time series. Hollett Little Giant Stadium also provided the setting for a new Monon Bell attendance record of 11,743.
See action photos
here
,
here
,
here
,
here
, here, here and photos of the crowd and celebration
here
,
here
,
here
, here, here, here, and here!
View video highlights of the Little Giants' victory
here
!
View the halftime interview of DePauw President Brian Casey and Wabash President Patrick White
here
.
Former Wabash player and current Indianapolis Colts assistant coach Pete Metzelaars stopped by the HDNet booth at halftime for a quick interview that can be viewed here.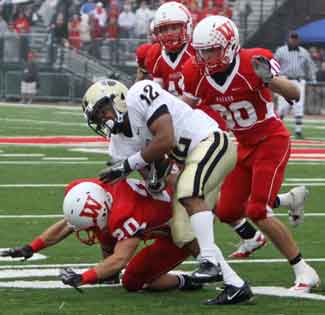 "No matter what kind of year you're having, getting a win in the Bell game means a lot if you're at Wabash," Head Coach Erik Raeburn said. "So certainly the injuries that we've had and the way our guys have persevered, it's just a nice way to end the season."
Raeburn admitted never dreaming of such a dominating performance. His Little Giants rolled up 498 yards of total offense and kept the Tiger's high-powered offense off the field.
"No, no," he laughed when asked about the domination. "I can't say enough good things about how well our defense played. I thought it was going to be a slugfest to the very end. I felt like we had the momentum most of the game. We had a couple turnovers in first half that put our defense in a bad situation but they stepped up both times and got the momentum back. Momentum is a powerful thing."
Wabash didn't officially have a sack in the game but rushed Tiger quarterback Michael Engle from the first snap.
"We knew we had to get pressure all day," senior defensive lineman Jake Kolisek said. "We knew when they were going to be throwing the ball so we just got after him. I felt like we had pretty good pressure all day and he never really got comfortable."
Engle struggled to 12-of-33 passing, threw two interceptions and obviously no scores. All-American wide receiver and DePauw record holder Alex Koors didn't have a first-half catch and finished with just three receptions for 24 yards.
"In my wildest dreams, to be honest I didn't expect this," Kolisek said. "I didn't imagine us scoring 47 points on them either. In all aspects of the game we just played amazing. I guess that's what happens when you get an outcome like this."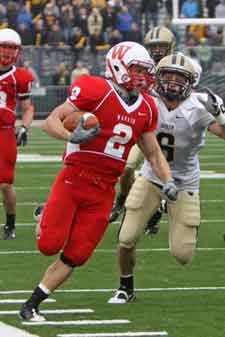 Besides the dominating defense, the rushing offense had its biggest game of the season, out-gaining the Tigers 292-11. Senior back Derrick Yoder had a career day with 164 yards on 24 carries.
Yoder nearly choked up after the game when told of his totals. "Man," he said, then paused. "I couldn't have dreamed of a better scenario than going out like this. The holes were huge, it was too easy. We established the run just like we wanted to and it opened up big plays. It was easy today."
The game swung midway through the second quarter when Vann Hunt recovered a Tiger fumble to set the Little Giants up at their own 26-yard line. Chase Belton found Geoffrey Wright wide open in the end zone for a 23-yard TD to put Wabash ahead 19-0.
The Little Giants took the second half kickoff and blew the game open — driving 78 yards in 11 plays and getting a Tyler Burke to Brady Young score from 36 yards out.
"Everything clicked today, we were hitting on all cylinders," Burke said. "We came out with a passion today after losing to Witt last week and knowing most likely it was the senior's last game. We wanted to go out with a bang and we played close to perfection today."
The defense again was the difference maker after the Little Giants moved ahead 26-0. A quick three-and-out and the offense was back on the field. This time Chase Belton hit Jon Horn with a beautiful throw and a great catch for a 17-yard score, 33-0.
Wabash's receivers dropped some balls at Wittenberg a week prior, but they were having none of that in the Bell game. "Definitely, the receivers responded well," said Horn, who led Wabash with seven catches for 105 yards. "Tyler and Chase both spread the ball around. We got it done today blocking and catching the ball."
The defense stifled the Tigers on the ensuing possession when James Pannell picked off an Engle pass after Dan Ryan Wood and Luke Zinsmaster put the heat on the Tiger quarterback. Wabash then went 72 yards in six plays, capped by a Burke to Devin Kelly score from 39 yards out, 40-0.
The score capped a 21-point third quarter that turned the game into a Monon blowout. It was the first Wabash shutout since 1967.
"I thought we got great pressure whether we were rushing four guys or bringing six or seven guys," Raeburn said. "I thought our secondary played more aggressive and challenged their routes. I think DePauw is really good on offense, and I couldn't be prouder of how hard our defensive players played and how well they were coached by our defensive staff."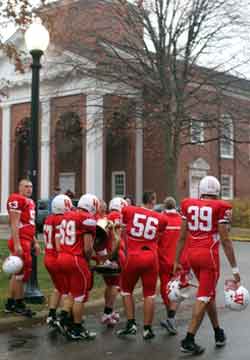 The lopsided statistics were telling. Wabash had 498 yards to DePauw's 95, 292-11 rushing, and 206-84 passing. The Little Giants dominated the time of possession, 38:23-21:37 and dominated on third down. Wabash converted 11-of-17 third down chances, while DePauw could only manage two conversions in 15 third down tries.
"Everyone has been telling me all week, 'Don't lose the Bell your senior year,'" Kolisek said. "And after all we've gone through with our loss to Witt, the loss at Washington and all the injuries … this victory, especially with the score, just makes everything right."
Deonte Singfield was all over the new turf collecting nine tackles. James Pannell had five as did Blake Powell and C.J. Gum. Five more players had four tackles apiece – Kyle Najar, Jake Martin, Austin O'Neal, Austin Hodges, and Kolisek.
Wabash's rotating quarterbacks combined for 12-of-19 passing and one interception. Each threw for two touchdowns. Burke was 5-of-10 and Belton was 7-of-9.
After Horn's seven catches, no other Little Giant receiver had more than one. But Kelley, Young and Wright all caught their passes for touchdowns.
Freshman James Kraus had one reception and got his eyes full with his first home Monon Bell game. "It was really exciting, the crowd was awesome," the North Judson graduate said. "I was a little jittery at first but this is why you come to Wabash."
In photos: Top Right, the defense wouldn't let the Tiger offense move. Center left, Derrick Yoder ran for 164 yards. Lower right, immediately after the game the Little Giants returned the Monon Bell to the Wabash College Chapel steps.
Results: Wabash 47, DePauw 0