Wabash Men in History: Kickapoo Ed Summers
by Jon Pactor '71
Printer-friendly version | Email this article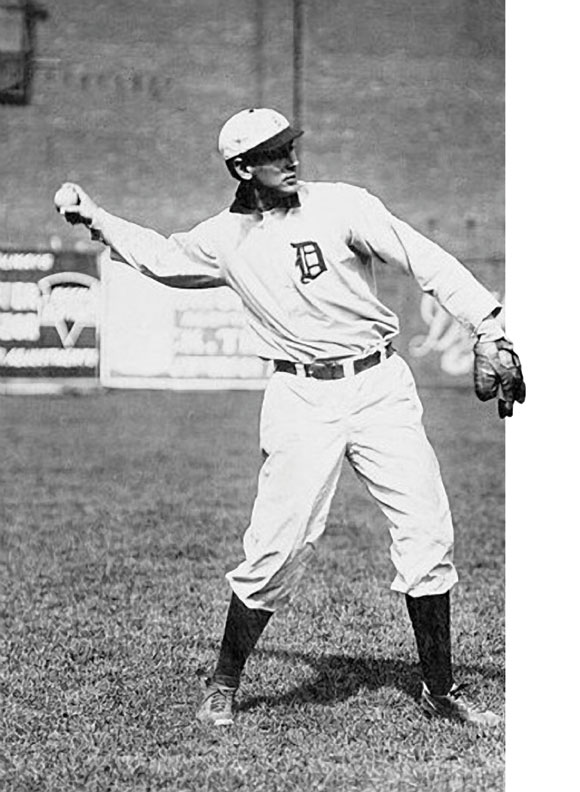 Some baseball fans think of Joe DiMaggio's 56-game hitting streak as a record that will never be broken. It is 67 years old.
Yet a Wabash man holds records that are 100 years old.
Oren Edgar "Kickapoo Ed" Summers attended Wabash in 1903 before embarking on a professional baseball career that took him, along with Ty Cobb and the Detroit Tigers, to the World Series' in 1908 and 1909. Later, he coached the Little Giants.
Not much is known about Kickapoo Ed, but what we do know is fascinating. He threw primarily with his right hand, but he could also pitch with his left. He was a switch hitter, too. He invented the "finger-tip" knuckleball while pitching with the Indianapolis Indians in 1907. Previously, hurlers threw the pitch with their knuckles against the ball.
Chicago Cub fans should pay homage to Summers. He lost two World Series games to the Cubs in 1908—the last time that the Cubs won the Series. He lost the first game 10-6 in relief and the fourth game 3-0 in a pitchers' duel with Mordecai "Three Finger" Brown. Summers yielded six consecutive hits in the ninth inning
of the first game. It remains a World Series record for most consecutive hits allowed in one inning.
Summers, a 6' 2" rookie, had led the Tigers to the 1908 pennant with a 24-12 won-loss record, 1.64 earn run average, and five shutouts. On September 24, 1908, he started and won both games of a doubleheader in a heated pennant race that was not resolved until the last game of the season. His 24 wins remain an American League record for most wins by a rookie, and his 1.64 ERA is the best by any pitcher in Tiger history. He outperformed both Cy Young (21-11) and Walter Johnson (14-14).
On July 16, 1909 Summers pitched 18 scoreless innings against Washington, then the longest game in American League history. It was part of his 31 consecutive scoreless innings streak, a record that Johnson shattered in 1921. But the 18 scoreless innings in one game remains a record, although Johnson and Carl Hubbell tied it.
Rheumatism plagued Summers throughout his career. He often wrapped his legs in tape for relief. The disease forced his retirement after the 1912 season. He finished his five-season career with an impressive 68-45 won-loss record and a 2.42 ERA.
He coached the 1916 Wabash baseball team to a 9-6 record. The Little Giants split two games with Purdue, lost to Illinois, Michigan, and Notre Dame, and defeated DePauw twice. Students touted him for his baseball knowledge and leadership. The "entire performance of The Little Giants reflected the highest credit upon the coaching of Summers," wrote one student.
When the United States entered World War I in 1917, Wabash didn't compete in baseball. Summers began a career as a welder with Prest-O-Lite, later Union Carbide, in Indianapolis on March 1, 1918. He retired in 1950.
Summers grew up in Ladoga, Indiana in southeastern Montgomery County. He died at the age of 68 in 1953, and he was buried in the Ladoga cemetery. His simple tombstone says nothing of his baseball career.
Much of Summers' record-setting career remains as baffling as his knuckleball. Perhaps so many details are lacking because he himself was a humble man who, at the time, did not appreciate what he had done. In a letter to his nephew in 1950, he wrote: "I was pioneering in baseball more at that time than I realized."