Lights, Camera, Action!
by Jim Amidon '87
Printer-friendly version | Email this article
Taking advantage of every opportunity the Schroeder Center for Career Development gave him, Jake German spent his summer in the movies—behind and in front of the camera.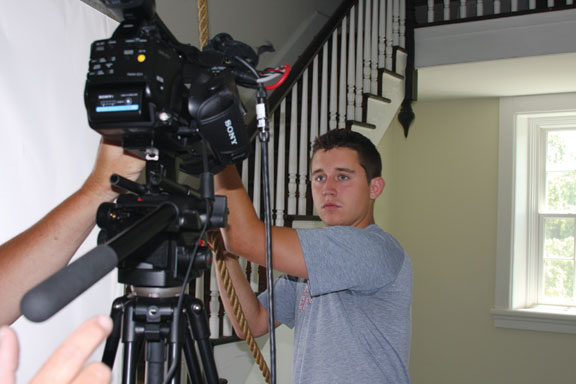 Jake German '11 never imagined he'd spend his summer producing and starring in videos.
He just wanted to make the best of his opportunities.
Coming off a Spring Break trip to Washington, DC—where as a freshman he took part in the Jim Graham Externship Program through the Schroeder Center for Career Development—German learned quickly how to navigate through the Wabash alumni network and the benefits of doing so.
But when he landed a summer internship in the Schroeder Center, he had little idea of what he and fellow intern Pat Patterson would be doing.
Career Center Director Scott Crawford and his staff had imagined the interns producing a publication that would include job search and interviewing tips from a broad swath of Wabash alumni—sort of a how-to guide for tapping into the richness of the alumni network. German and Patterson, both YouTube addicts, imagined a video.
Gradually, the plans converged and the two Wabash students began planning the ultimate summer road trip. Their goal: Capture tips from alumni about writing good cover letters, creating solid resumes, and how to dress and act in interviews.
Over the course of six weeks, German and Patterson traveled to Denver, Boulder, Chicago, Indianapolis, and Lafayette to reach out to Wabash alumni.
In Colorado, they interviewed Dr. John Panozzo '89 and entrepreneur and philanthropist Bob Charles '59. In Lafayette, they interviewed financial consultant Dave Knott '69 and Andrew McGlothlen '05, who is in marketing and advertising.
In Chicago, they met with several alumni, including Nick Prihoda '99 at Leo Burnett's home office.
Prihoda was impressed.
"To make sure their vision truly came to life, they pushed for it to be done the right way, and also make it convenient for alumni to participate," Prihoda says. "How can you say 'no' to that? As an alumnus, it made me feel honored to be involved with the project."
"The responses were amazing—from 'shine your shoes until you can see your face in them' to 'treat every person you meet as though they might give you your next job,'" German recalls. His personal favorite tip? "Start by smiling," from Dave Knott.
Conversations that started as part of a video project expanded, and German found himself harnessing the full strength of the much-ballyhooed Wabash alumni network.
Kai Chin '71, who has been in international banking throughout his career, talked equally about his successes and failures, and motivated the students to learn from every experience.
"I just wanted to be a sponge around these guys," German says.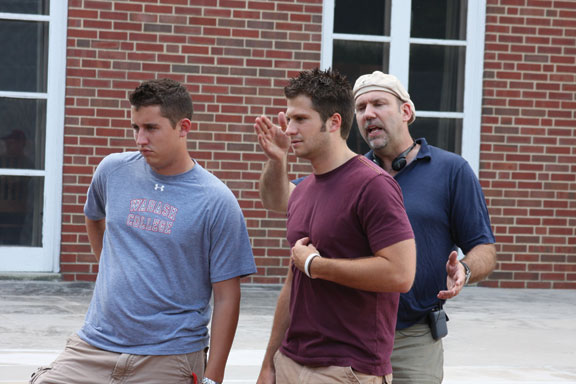 Art Howe '82, an attorney in Chicago, also helped out with the project. Having German conduct the interview provided Howe with a special opportunity.
"I had interviewed Jake the year before on the Lilly committee and he was the candidate from our group who was fortunate to receive the Lilly Award," Howe explains. "Then, in a year's time, the roles were reversed, and now he was asking the questions.
"Once you're a member of the Wabash community, you're a member with equal standing. Classes mean nothing—whether you're '82 or 2002, it just doesn't matter."
The tough part of German's summer job came once the off-campus interviews were completed. What would they do with the hundreds of pieces of good advice they had on tape? But they put it all together in a nifty 30-minute package with chapters devoted to specific topics.
"It wasn't until we put down all of the names in the credits—listed all of the alums we talked to—that I knew we had captured a whole summer of advice, experiences, and memories," says German. "That's when it all came together.
"At Wabash, we preach all the time about the alumni network. We were able to harness so much advice from so many accomplished alumni and use it to provide a service for students. I guarantee if Wabash students watch the DVD, it will come back to them when they get the job they've always dreamed of."
And for German, his work in the Schroeder Center was the ultimate summer job.
"I thought going in that this was going to be a normal job where you get through the day so you can hang out with your friends at night. Instead, it became a summer of opportunities and experiences that will serve me the rest of my life. And I also had a great time."