Alumni
Wabash Day
WABASH Day is the National Association of Wabash Men's annual, national day/weekend of community service.
Wabash Alumni Benefiting And Serving Humanity.
WABASH Day 2017 will be held on the weekend of October 21-22.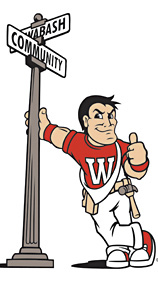 Wabash alumni all over the United States will be joining together to perform service projects in their local communities. Choosing a weekend gives the local groups the option to pick the day which works best for the group.
If you'd like more information, contact the Wabash Alumni and Parent Relations Office at alumni@wabash.edu or 765-361-6369.
The following cities have been identified for potential projects. This list will be updated with project details and additional cities as information is confirmed.
Austin, TX

Saturday
October 21
9:00 a.m. - 12:00 p.m.

Central Texas Food Bank
6500 Metropolis Dr.
Austin, TX 78744

Project Leader: Jim Braddock '73 - Please contact him with questions.

Project Description: Sort and box donated food items for distribution to organizations providing meals to needy persons.

Tools Needed/Special Instructions: No tools needed. Wearing open-toed shoes, high heels, tank tops, and sleeveless shirts is not permitted. Must be 16 years of age or older to participate. Volunteer here. Click on "sign in" on the page that opens and follow the instructions provided to register. This can be done on site the day of as well if need be. It may require you to create an account if you have not previously volunteered with the Cenral Texas Food Bank. The food bank asks each volunteer to also review this video before volunteering. Additional safety details may be shared upon volunteer confirmation. Please contact the project leader James Braddock with questions.

Avon, IN (Hendricks County)

Saturday
October 21
9:00 a.m. - completion

Mary Lee Maier Community Pantry
Maple Elementary School
7237 East US Highway 36
Avon IN 46123

Project Leader: Jim Kerr '92

Project Description: Our W.A.B.A.S.H. day project will focus on cleaning out cabinets in the space the pantry currently utilizes to allow for future food storage.

Tools Needed/Special Instructions: This is a family friendly event; all ages are welcome to participate. We will meet at door 4 (rear entrance on east side of the building) at Maple Elementary School.

The Mary Lee Maier Community Pantry serves families of the Avon Community School Corporation. Anyone with a student in the Avon school system and school employees are eligible to shop at the pantry. It is open from 4:30-6pm on Thursdays at Maple Elementary when school is in session.

Carmel, IN

Saturday
October 21
9:00 a.m. - 12:00 p.m.

City of Carmel/Monon Trail
Intersection of 146th and Monon Trail

Project Leader: Jim Dyer '83

Project Description: As a service to the city of Carmel through which the Monon Trail passes, Wabash alumni, families, and friends will turn the Monon Trail scarlet as we pick up trash. We will begin at 146th St & the Monon and spread out in groups to clean the trail.

Tools Needed/Special Instructions: Family friendly event, all are welcome. Volunteers might bring trash bags, bottled water (for both volunteers & patrons on the trail), wagon to pull kids if applicable.

Chicago, IL

Saturday
October 21
1:00 p.m. - 3:45 p.m.

Greater Chicago Food Depository
4100 W Ann Lurie Place
Chicago, IL 60632

Project Leader: George Vinihakis '15 - E-mail him with questions

Project Description: The Greater Chicago Food Depository regularly needs volunteers to help with repacking donated food and other products. The repack session is a great introduction to the GCFD, the work we do here, and the need that we see in Cook County. A lot of the food we receive at our warehouse comes in bulk quantities and volunteers are scheduled to help us break it down into more manageable sizes. In a repack session you might be sorting produce, looking over a shipment of bread, or repacking bulk dry goods (cereal, pasta, rice) into smaller quantities. Together, we can properly and efficiently distribute quality food to participating food pantries, soup kitchens and shelters in Cook County. The minimum age to volunteer is 14 years old and 14-15 years old must be accompanied by an adult chaperone (who must also register).

Tools Needed/Special Instructions: The GCFD parking lot is open to volunteers during Wednesday evening and Saturday sessions. Volunteers must be 14 years old. Volunteers 14 or 15 years old must be accompanied by an adult over the age of 18.

All volunteers must register using the following link: https://volunteers.chicagosfoodbank.org/index.php?section=indGpRegistrations&action=profile_conditional&fwID=13080

Post Project Gathering: We will gather at The Scout (1301 S. Wabash Ave, Chicago, IL 60605) following the GCFD service project for TWR and NCAA football. Join us here even if you cannot participate in the service project.

Cincinnati, OH
Crawfordsville, IN

Saturday
October 21
8:45 a.m. - 1:00 p.m.

Volunteers Needed

Project Leader: Herm Haffner '77 - E-mail him to volunteer

Project Description: 11-12 projects are being planned at organizations throughout the community and volunteers are needed. Alumni, family, friends, and students will work together to complete these various projects.

Please contact project leader Herm Haffner (e-mail link above) if you are available to help on October 21. Everyone will meet at the Chapel on campus first and then groups will disperse to other project locations. Please drive (carpool please) to the meeting site so each group can disperse to the designated project immediately.

Dallas, TX

Saturday
October 21
9:30 a.m. - 12:30 p.m.

Dallas Heritage Village
1515 S. Harwood,
Dallas, TX 75215

Project Leader: Jared Lange '08 - Please e-mail him with questions or to volunteer

Project Description: We will be weeding the gardens and painting the perimeter fence (oil based paint).

Tools Needed/Special Instructions: All tools and material provided.

Post event gathering:
Dot's
2645 Commerce Street
Dallas, TX 75226

Denver, CO

Detroit, MI

Saturday
October 21
9:00 a.m. - ?

World Medical Relief
21725 Melrose Ave.
Southfield, MI 48075
(just off Lahser Road north of Eight Mile)

Project Leader: Terry Hamilton '89 - Please e-mail Terry with questions or to volunteer.

Project Description: WMR is an organization that takes surplus medical equipment and supplies and redistributes them for use in needy countries, in addition to some local care initiatives. We will work to sort and pack medical supplies that have been donated to WMR for its shipments to Tanzania and Yemen.

Tools Needed/Special Instructions: We'll meet at 9 a.m., and take you for as long as you can go, but not longer than late afternoon. Wear comfortable work clothes – I recommend a red Wabash sweatshirt, jeans, and work shoes or sneakers. Children 10 years old and up are welcome.

If you can volunteer, please let Terry know so that the volunteer coordinators can plan accordingly. Friends and family are very welcomed, and the more, the merrier!

Evansville, IN

Fort Wayne, IN

Saturday
October 21
9:00 a.m. - 1:00 p.m.

Project #1 -
Shepherd's House
519 Tennessee Ave
Ft Wayne, IN

Project #2 -
Easter Seals ARC
4919 Coldwater Rd.
Ft Wayne, IN

Project Leaders: Pete Wilson '84 and Kim Fenoglio - Please e-mail Kim with questions or to volunteer.

Project Description: These events will take place simultaneously beginning at 9:00 a.m. At Shepherd's House, one team will be setting up and decorating eleven Christmas trees in anticipation of an event they are hosting. At Easter Seals ARC, another team will be assisting the Easter Seals ARC maintenance man in installing counters and countertops in two adult learning classrooms.

Tools Needed/Special Instructions: Neither of these projects require special skills or tools; although cordless drills would be welcomed if participating in the Easter Seals ARC installations. Volunteers can select which project they would prefer to assist with and should let Kim know when e-mailing her. We may need to adjust to overload at one location or the other.

Franklin, IN
Grand Rapids, MI
The Grand Rapids alumni, friends, and family completed a service project in the spring of 2017 and are planning another project for the spring of 2018. Look for details after the first of the year.
Greenfield, IN
Indianapolis, IN

The Villages
Saturday
October 21
1:00 p.m. - 4:00 p.m.

The Villages
55 Galeao Court
Indianapolis, IN 46241

Project Leader: Kevin Benefiel '81

Project Description: Indianapolis alumni, family, and friends will return to the Villages for the thirteenth year in a row to paint some interior rooms and possibly complete other inside projects depending on the number of volunteers.

Tools Needed/Special Instructions: We will need approximately 10-12 volunteers. All of the needed materials will be supplied by The Villages, however, bring an extra ladder if you have one at home that we could use. Finally, please make sure to bring a Wabash College identified shirt as we'll want to get a group picture before we start painting.

The Villages' Mission is to champion every child's right to a safe, permanent and nurturing home. They are committed to strengthening all families and embracing the dignity and diversity of every child, youth and family served. The Villages provides services such as foster care, adoption, child care, and early childhood development at this Indianapolis location.

---

Mapleton/Fall Creek
Saturday
October 21
9:00 a.m. - 1:00 p.m.

Mapleton-Fall Creek Development Corporation (MFCDC)
3190 Meridian Street
Indianapolis, IN 46208

Project Leaders: Josh Tatum '03 and Steve Egan '09

Project Description: The project is part of neighborhood development by Mapleton-Fall Creek Development Corporation, a nonprofit that helps preserve Mapleton-Fall Creek's old homes and ensure affordable housing in the area. The project will take three to four hours. Specific project details TBD.

---

Second Helpings
Saturday
October 21
9:00 a.m. - 1:00 p.m.

Second Helpings
1121 Southeastern Ave.
Indianapolis, IN 46202

Project Leaders: Kyle McClammer '08 and Hugh Vandivier '91

Project Description: Specific duties have not yet been confirmed, but Wabash alumni and friend volunteers performed such tasks as cutting meat and vegetables, washing delivery vans, and basic landscaping.

Tools Needed/Special Instructions: All ages welcome. Maximum of 10 participants. Upon project completion, Second Helpings treats its volunteers to lunch straight from its kitchen.

---

Broad Ripple/Monon Trail
Saturday
October 21
9:00 a.m. - 11:00 a.m.

Broad Ripple Village Association; Monon Trail
6323 Guilford Ave.
Indianapolis, IN 46220

Project Leaders: Kyle Bender '12 and Ryan Stephens '08

Project Description: We will again partner with the Broad Ripple Village Association to help prepare Broad Ripple for a busy fall calendar of events. Last year we worked with local businesses on a beautification project that resulted in murals painted on traffic boxes. This year we will clean a portion of the Monon Trail that passes through the Village.

Tools Needed/Special Instructions: Family friendly event, all are welcome. Volunteers are encouraged to bring trash bags and work gloves.

---

Downtown/Monon Trail
Saturday
October 21
9:00 a.m. - 12:00 p.m.

City of Indianapolis/Monon Trail
Intersection of 10th Street and Monon Trail

Project Leader: Chris Stazinski '16 and Sky King '15

Project Description: As a service to the city of Indianapolis through which the Monon Trail passes, Wabash alumni, families, and friends will turn the Monon Trail scarlet as we pick up trash. We will begin at 10th St & the Monon @ 9am and spread out in groups to clean the trail up to 38th street.

Tools Needed/Special Instructions: Family friendly event, all are welcome. Volunteers might bring trash bags, bottled water (for both volunteers & patrons on the trail), wagon to pull kids if applicable.

Kansas City, MO

Saturday
October 21
8:30 a.m. - 12:00 p.m.

Harvesters Community Food Network
3801 Topping Avenue
Kansas City, MO 64129

Project Leader: Michael Cummings '86 - Please e-mail him to volunteer

Project Description: Sort and box food items to be distributed to food-distressed families.

Tools Needed/Special Instructions: No children under age 6; closed toed shoes required; canned good/personal hygiene donations accepted the day of the event.

Lunch afterwards (TBD)

Minneapolis, MN

Saturday
October 21
9:00 a.m. - 12:00 p.m.

Metro Work Center, Inc.
2730 East 31st Street
Minneapolis, MN 55406

Metro Work Center, Inc. is a Day Training and Habilitation program. MWC provides employment opportunities, life skill development support, community integration, and leisure and recreation activities on an individualized basis to adults with intellectual or developmental disabilities and related conditions. The workroom is on the 3rd floor of Holy Trinity Lutheran Church, MWC landlord for the last 45 years.

Project Leader: Charlie Crowley '70 - Please e-mail him to volunteer

Project Description: Wabash alumni, family and friends will help paint the walls in one of the MWC work rooms. There is also the opportunity to do a cleaning project if the number of volunteers is sufficient.

Tools Needed/Special Instructions: All cleaning materials will be provided. However, we could use another step ladder or two and a few more rollers and pans for painting. Let Charlie know in your response if you can bring something. Bring your Wabash shirt, sweatshirt or jacket for a group photo, but wear "painting clothes" for work. If painting is just not your thing? The cleaning project awaits your scrubbing expertise.

As always, coffee, juice and treats will be available to start the day.

Nashville, TN

Saturday
October 21
9:00 a.m. - 12:00 p.m.

Second Harvest Food Bank
331 Great Circle Road
Nashville, TN 37228

Project Leader: Tim Morrison '88 - Please e-mail him to volunteer

Project Description: We will be sorting food and perhaps preparing box meals.

Tools Needed/Special Instructions: We'll have a great time working together as a team and getting to know/catch up with your Wabash family while serving the Middle Tennessee area. Please make time to join us. (Note: Children ages 12+ are welcome to attend and serve).

Noblesville, IN

Saturday
October 21
8:00 a.m. - 12:00 p.m.

Diabetes Youth Foundation Camp
5050 E. 211th Street
Noblesville, IN

Project Leaders: Lee Clark '73 and Greg Estell '85 - Contact them with questions.

Project Description: DYF is a camp for kids with diabetes-related and other medical issues, where they can spend a week with other kids just like them. It will be our honor to help them clean up and improve their outdoor areas and other facilities. Project plans are being finalized, with options including additional seating for their campfire area, cabin repairs, and perhaps clearing fallen trees.

Tools Needed/Special Instructions: All ages are welcome. Bring gloves and suggest long pants, hammers, rakes, cordless drills with attachments like drill bits and screw heads, chain saws, etc.

As always we will have donuts and coffee for the early arrivals and post work libations will be at Barley Island.

The camp is located 1 mile north of SR 38 on Hinkle Road (first SR 38 intersection west of the Little Chicago/Hazel Dell stoplight). Please be careful using GPS, as it may take you to Morse Reservoir.

Pittsburgh, PA
South Bend, IN

Saturday
October 14 (Irish home game on Oct 21)
10:00 a.m. - Work completion (2 p.m. or so)

Families First Center
605 N. Portage Avenue
South Bend, IN

Project Leader: Peter Horvath '92 - Please e-mail him by October 6 to volunteer

Project Description: We will once again we will return to the Families First Center in South Bend to engage in general maintenance projects. At this point we will do some painting, window-washing, power-washing, raking leaves, trimming bushes and trees, and general repairs.

Tools Needed/Special Instructions: Please plan to bring what you can from the following list:

Ladders (for inside painting)
Hammers, screwdrivers, and other general tools
Power washer and hose
Rakes
Hedge clippers
Lopping shears
Tree branch cutters

We hope to get at least 10 volunteers to help complete projects. Spouses and children of an appropriate age are welcome to join us.

St. Louis, MO

Saturday
October 21
9:00 a.m. - 12:00 p.m.

Gateway Greening
Miss Tillie's Corner Community Garden
1353 N. Garrison
St. Louis, MO 63106

Project Leader: Kenny Farris '12 - Please e-mail him with questions or to volunteer.

Project Description: Typical volunteer activities may consist of harvesting, planting, weeding, mulching, watering, and general gardening and landscape maintenance. We will work in inclement weather, so be prepared.

Tools Needed/Special Instructions: All necessary tools will be provided. Please wear outdoor work appropriate clothing, including closed-toed shoes, hats, and bring refillable water bottles, gloves and sunscreen.

Volunteer Form - Each volunteer must complete this form and bring it with them to the work day.

Valparaiso, IN

Saturday
October 21
2:00 p.m. - ?

The Caring Place, Inc.
Valparaiso, IN

Project Leader: Shawn Cox '94 - Please e-mail him with questions or to volunteer.

Project Description: The alumni and friends that volunteer will be cooking (grilling out) and serving dinner for the residents currently in the shelter. There may also be an opportunity for an activity such as carving/decorating pumpkins with the children.

Tools Needed/Special Instructions: Must be 18 or older to participate. More specific details, including the address, will be provided upon volunteering.

Washington, DC

Saturday
October 21
9:30 a.m. to 12:00 p.m.

Seabury Senior Group Homes
2501 18th St NE
Washington, DC 20018

Project Leader: Ross Dillard '07 - Please e-mail him to volunteer

The National Capital Association of Wabash Men will celebrate Wabash Day 2017 by participating in a group service project with a local nonprofit - Seabury Senior Group Homes. Area alumni, family, and friends will be needed as volunteers to make this project a success.

Project Description: The nature of the work will consist of yard work and/or general repair work around the homes of low-income senior citizens.

Tools Needed/Special Instructions: All required tools will be provided on site - there is no need to bring anything but yourself and a willingness to help where needed. Those driving will find parking on site and should plan to arrive by 9:30 a.m. For those who ride Metro, the stop is Rhode Island on the Red Line and the program will provide transportation from Metro to and from the work site. Metro riders should plan to arrive at the Rhode Island stop in time for a 9:15 a.m. pickup. Following our project, a group lunch gathering is planned for those able to attend at Brookland Pint (716 Monroe Street NE).

You can find out more information about Seabury Senior Group Homes on their website: www.seaburyresources.org

Zionsville, IN