Alumni
Wabash Day
---
WABASH Day is the National Association of Wabash Men's annual, national day/weekend of community service.

Wabash Alumni Benefiting And Serving Humanity.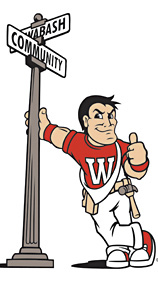 WABASH Day 2018 (#WabashDay2018) will be held on the weekend of October 6-7.
Wabash alumni all over the United States will be joining together to perform service projects in their local communities. Choosing a weekend gives the local groups the option to pick the day which works best for the group.
If you'd like more information, contact the Wabash Alumni and Parent Relations Office at alumni@wabash.edu or 765-361-6369.
We are anticipating projects in the cities below (hope to add others as well). Click on the city name for project details.
Austin, TX

Sunday
October 7
Time: TBD

City of Austin
Storm Drain Marking Program

Project Leader: Jim Braddock '73

Project Description: The City of Austin storm drain marking program is a hands-on project for volunteers who are interested in educating the public about pollution prevention.

To help prevent dumping in storm drains, volunteers place markers on the drains as a visual reminder that the storm drains run directly to our creeks. Volunteers can also distribute door hangers in the area to remind citizens that rain washes garden chemicals, pet waste, motor oil, and other pollutants from our yards, driveways, sidewalks, and all areas of land into our waterways.

Tools Needed/Special Instructions: If you can volunteer on Sunday, October 7 please e-mail Jim by October 1. This is something we can do at any time during the day so when volunteering please provide your availability on that day. Jim will pick a time that works for the most volunteers and will notify them of the time and place to meet. It's not yet known where they will send us.

Carmel, IN

Saturday
October 6
8:00 a.m. - Noon

Crooked Creek Food Pantry
6940 N. Michigan Road
Indianapolis, IN 46268

Project Leader: Jim Dyer '83

Volunteer Here

Project Description: The Pantry serves somewhere between 1100 and 1300 families a month, with a large quantity of food being loaded into and stored at the pantry and then distributed to our clients on three or four days a week. This intense use requires semi-annual deep cleaning which takes 6-12 volunteers about 3-4hours (or less if they are energetic).

Work to be completed:

clean out and sanitize all refrigerators and freezers,
reorganize contents
wash all stainless steel shelves and tables;
sweep and mop floors and clean the kitchen surfaces;
clean all plastic totes and trash barrels;
reorganize and straighten all storage areas.
We may also be asked to clean the carpet with professional carpet cleaning machines.

Chicago, IL

Saturday
October 6
10:30 a.m. - 12:30 p.m.

Alliance for the Great Lakes
Adopt-a-Beach Initiative
12th Street Beach
1200 S. Linn White Dr.

Project Leader: George Vinihakis '15 - Please e-mail him with questions or to volunteer

Project Description: We will be assisting in the cleanup of the beach area (won't be arduous).

Tools Needed/Special Instructions: You might consider bringing gloves.

Post event gathering:
Del Campo's Tacos (right on the beach)
1300 S Lynn White Dr.

Crawfordsville, IN

Saturday
October 6
8:45 a.m. - 1:00 p.m.

Volunteers Needed

Project Leader: Herm Haffner '77 - E-mail him to volunteer

Project Description: 11-12 projects are being planned at organizations throughout the community and volunteers are needed. Alumni, family, friends, and students will work together to complete these various projects.

Please contact Herm Haffner (e-mail link above) if you are available to help on October 6. Everyone will meet at the Chapel on campus first and then groups will disperse to other project locations. Please drive (carpool please) to the meeting site so each group can disperse to the designated project immediately.

Dallas, TX

Saturday
October 6
9:30 a.m. - 12:30 p.m.

Dallas Heritage Village
1515 S. Harwood,
Dallas, TX 75215

Project Leader: Jared Lange '08 - Please e-mail him with questions or to volunteer

Project Description: We will be weeding the gardens and painting the perimeter fence (oil based paint).

Tools Needed/Special Instructions: All tools and material provided.

Post event gathering:
TBD the day of service

Danville, IN
Denver, CO

Detroit, MI

Saturday
October 6
9:00 a.m. - Noon

World Medical Relief
21725 Melrose Ave.
Southfield, MI 48075
(just off Lahser Road north of Eight Mile)

Project Leader: Terry Hamilton '89 - Please e-mail Terry with questions or to volunteer.

Project Description: WMR is an organization that takes surplus medical equipment and supplies and redistributes them for use in needy countries, in addition to some local care initiatives. We will sort supplies and pack boxes that are bound for hospitals and clinics in third world countries.

Tools Needed/Special Instructions: We'll meet at 9 a.m., and go until not longer than noon. Wear comfortable work clothes – I recommend a red Wabash sweatshirt, jeans, and work shoes or sneakers. Children 10 years old and up are welcome.

If you can volunteer, please let Terry know (at Terence.hamilton@ascension.org or 586-246-7479 cell) so that the volunteer coordinators can plan accordingly. Friends and family are very welcomed, and the more, the merrier!

Fort Wayne, IN

RESCHEDULED:

Saturday
October 27
9:00 a.m. - 1:00 p.m.

NeighborLink and H.O.P.E. For Animals
1333 Maycrest Dr.
Fort Wayne, IN 46805

Project Leaders: Pete Wilson '84 and Kim Fenoglio - Please e-mail Kim with questions or to volunteer.

Project Description: This will be an outdoor project clearing out the tree line on the H.O.P.E. for Animals' property. There will be weeding, a little sawing, lopping of branches, and wood chipping involved.

Tools Needed/Special Instructions: Volunteers are asked to bring work gloves and any tools that might be helpful in the project. A list of needed tools will be shared with volunteers as we get closer to the project date.

Indianapolis, IN

The Villages
Saturday
October 6
1:00 p.m. - 4:00 p.m.

The Villages
55 Galeao Court
Indianapolis, IN 46241

Project Leader: Kevin Benefiel '81

Project Description: Indianapolis alumni, family, and friends will return to the Villages for the fourteenth year in a row to paint some interior rooms and possibly complete other inside projects depending on the number of volunteers.

Tools Needed/Special Instructions: We will need approximately 10-12 volunteers. All of the needed materials will be supplied by The Villages, however, bring an extra ladder if you have one at home that we could use.

The Villages' Mission is to champion every child's right to a safe, permanent and nurturing home. They are committed to strengthening all families and embracing the dignity and diversity of every child, youth and family served. The Villages provides services such as foster care, adoption, child care, and early childhood development at this Indianapolis location.

---

Mapleton/Fall Creek
Saturday
October 6
9:00 a.m. - 1:00 p.m.

Mapleton-Fall Creek Development Corporation (MFCDC)
Central Avenue Gardens
3007 Central Avenue
Indianapolis, Indiana 46205

Project Leaders: Josh Tatum '03

Project Description: Volunteers will be working in the pumpkin patch at the gardens and spreading mulch, etc. in the Ruckle Street pocket park. (The park and garden are connected.) Keep Indianapolis Beautiful will be providing mulch, and Pumpkin Patch USA will provide hundreds of pumpkins to help inventory.

There is free parking along Central Avenue.

---

Broad Ripple
Saturday
October 6
9:00 a.m. - Noon

Broad Ripple Village Association
818 Broad Ripple Ave
Indianapolis, IN 46220

Project Leaders: Kyle Bender '12 and Ryan Stephens '07

Project Description: We will again partner with the Broad Ripple Village Association to help prepare Broad Ripple for a busy fall calendar of events. Past projects have included preparing the traffic boxes for a mural project and also cleaning out overgrown landscaping beds.

Tools Needed/Special Instructions: Family friendly event, all are welcome. Volunteers are encouraged to bring trash bags and work gloves.

Kansas City, MO

Saturday
October 6
8:30 a.m. - 12:00 p.m.

Harvesters Community Food Network
3801 Topping Avenue
Kansas City, MO 64129

Project Leader: Michael Cummings '86 - Please e-mail him to volunteer

Project Description: Sort and box food items to be distributed to food-distressed families.

Tools Needed/Special Instructions: No children under age 6; closed toed shoes required; canned good/personal hygiene donations accepted the day of the event.

Lunch afterwards (TBD)

Nashville, TN

Saturday
October 13
9:00 a.m. - 12:00 p.m.

Second Harvest Food Bank
331 Great Circle Road
Nashville, TN 37228

Project Leader: Tim Morrison '88 - E-mail him to volunteer

Project Description: We will be sorting food and perhaps preparing box meals.

Tools Needed/Special Instructions: We'll have a great time working together as a team and getting to know/catch up with your Wabash family while serving the Middle Tennessee area. Please make time to join us. (Note: Children ages 12+ are welcome to attend and serve).

St. Louis, MO

Saturday
October 6
9:00 a.m. - 11:30 a.m.

Tenth Life Cat Rescue
3202 Cherokee Street
St. Louis, MO 63118

Project Leader: Kenny Ferris '12 - Please e-mail him to volunteer

Project Description: Window Cleaning, General Sweeping/Mopping, Make Fleece Blankets for Rescued Cats

Tools Needed/Special Instructions: None, although gloves may be useful.

Washington, DC

Saturday
October 6
9:30 a.m. to 12:00 p.m.

Seabury Senior Group Homes
2501 18th St NE
Washington, DC 20018

Project Leader: Ross Dillard '07 - Please e-mail him to volunteer

The National Capital Association of Wabash Men will celebrate Wabash Day 2018 by participating in a group service project with a local nonprofit - Seabury Senior Group Homes. Area alumni, family, and friends will be needed as volunteers to make this project a success.

Project Description: The nature of the work will consist of yard work and/or general repair work around the homes of low-income senior citizens.

Tools Needed/Special Instructions: All required tools will be provided on site - there is no need to bring anything but yourself and a willingness to help where needed. Those driving will find parking on site and should plan to arrive by 9:30 a.m. For those who ride Metro, the stop is Brookland CUA on the Red Line and the program will provide transportation from Metro to and from the work site. Metro riders should plan to arrive at the Brookland CUA stop in time for a 9:15 a.m. pickup. Following our project, a group lunch gathering is planned for those able to attend at Brookland Pint (716 Monroe Street NE).

You can find out more information about Seabury Senior Group Homes on their website: www.seaburyresources.org