Alumni
Monon Bell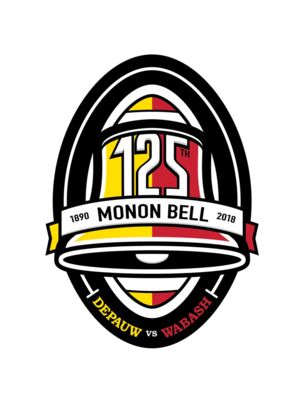 The 125th football game between DePauw University and Wabash College — one of America's oldest and most storied college rivalries known as the Monon Bell Classic — will be televised live nationally by FOX Sports Indiana for the second consecutive year. The 125th Monon Bell Classic will be televised on FOX Sports Indiana and on FOX Sports Midwest or FOX Sports Midwest Plus. It will be streamed nationally to all users of the FOX Sports app, FOX Sports GO app, and at FOXSportsGO.com. The game will also be carried nationally, either live or on tape delay, by FOX College Sports.

Click here for channel information.
The 125th game in the series, which began in 1890, will take place Saturday, November 10, in Crawfordsville, with kickoff slated for 1:07 p.m. (Eastern time).
DePauw and Wabash first met on the gridiron in 1890. In 1932, a locomotive bell from the Chicago, Indianapolis, and Louisville Railroad Company, also known as the Monon Line, was donated and became the winner's trophy each year. In the all-time series, Wabash holds a 61-54-9 lead.

Tickets for the game on sale now at www.wabashtickets.com.
If you cannot attend the game in person, we hope you'll be watching and cheering with other alumni and friends at one of more than 60 telecast parties throughout the country. Select a state from the drop down menu below and you will see the cities and details for all parties in that state. Those locations marked with a "2018" have been confirmed for this year. Please continue to check the list as it will be updated as party details are confirmed.
All parties will be pay as you go from the menu and will be family friendly unless otherwise noted in the details. Wear your Wabash attire and cheer loudly for the Little Giants as we look to keep the Bell in Crawfordsville.
Evansville - 2018

Men's Grill - Victoria National Golf Club
2000 Victoria National Boulevard
Newburgh, IN 47630
(812) 858-8230
Wayne Hentrup '83
wayne@vineyardfinancial.com




Fort Wayne - 2018

07 Pub
3516 Broadway
Fort Wayne, IN 46807
260-456-6807
Will Derrickson '97
wderrickson@gmail.com
RSVP by Nov 7 - 21+ only - Private event: cash bar and $15 buffet (not a required purchase) of popular menu items




Geist - 2018

Eddie's Neighborhood Bar & Grill
11693 Fall Creek Road
Indianapolis, IN 46256
317-849-0925
Todd Guthrie '96
todd.guthrie@lpl.com
**21 and Over Only**




Greenwood - 2018

Peppers II
299 South State Road 135
Greenwood, IN 46142
317-887-0461
Rich Colgrove '77
r.colgrove@comcast.net
**21 and Over Only** - Wabash Only Party




Indianapolis (Broad Ripple) - 2018

Moe & Johnny's
5380 N College Avenue
Indianapolis, IN 46220
317-255-6376
Chuck Mack '67
chuck@moeandjohnnys.com
**21 and Over Only** - Ample parking in paved and lighted lot off 54th St. (first alley access to the North)




Indianapolis (Downtown) - 2018

MashCraft on Delaware
2205 N. Delaware Street
Indianapolis, IN 46205
(317) 602-2552
Jake Kolisek '11
Kolisekj52@gmail.com




Indianapolis (Fort Ben) - 2018

Triton Brewing Company
5764 Wheeler Road
Indianapolis, IN 46216
317.735.2706
David Waldman '93
davedeadeye@gmail.com
Family Friendly




Jasper - 2018

The Mill House Restaurant /Basket Case Brewing Company
1340 Mill Street
Jasper, IN 47546
(812) 482-4345
Wabash Host Needed. Please contact Mike Warren at warrenm@wabash.edu if you can help.
**21 and Over Only** - RSVP By Nov. 7




Munster - 2018

Cheers
1942 45th Avenue
Munster, IN 46321
219-922-1325
Bill Evans '11
bill.evans@nm.com
RSVP by Nov 7




South Bend - 2018

Buffalo Wild Wings
4343 North Grape Road
Mishawaka, IN 46545
(574) 272-9464
Damon Leichty '94
damon.leichty@btlaw.com
RSVP by Nov 7