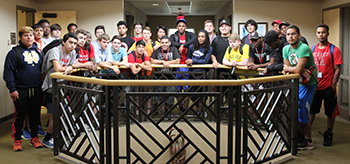 The Wabash Liberal Arts Immersion Program (WLAIP) is designed to give exceptional students a head start on:
earning credits towards their Wabash degree.
learning about and interacting with the offices and people who can help them succeed at Wabash.
understanding what makes a Wabash education rigorous, unique, and important.
preparing for success after they graduate from Wabash.
The program includes a month-long Summer Institute, strategic class scheduling for the freshman fall semester, special information sessions and networking events during the freshman year, and a "second summer" internship, research assistantship, or immersion experience. During each component of the program, students meet other students, staff, and alumni who are their guides, mentors, friends, and confidantes during their Wabash career and after, and they gain valuable information about what it takes to succeed at Wabash College and in their career after graduation.
Since its beginning in 2015, the program has welcomed approximately 30 students each year from all over the country, from right here in Montgomery County, Indiana to Chicago to Arizona, Georgia, and the Rio Grande Valley of Texas, and these students have become leaders on campus, serving as Presidents of fraternities, captains of athletic teams, leaders in student organizations, and Sphinx Club members. They have made a habit of taking home awards at the college's annual Awards Chapel and have earned recognition both on and off campus as, for instance, Phi Beta Kappa inductees, commencement speakers, and All-American athletes. It is a proud heritage into which students step by joining WLAIP, and we are excited to welcome the newest group of young men who will make our College and the World a better place.
Learn more through the links to the left.
---