Parents
Liberal Arts Plus
A Wabash Liberal Arts Education prepares you to think critically and lead effectively. Selectively choosing a liberal arts path can focus your thinking, skills, and opportunities to effectively tackle societies' challenges. The Liberal Arts Plus co-curricular initiatives cross disciplines to educate Wabash men to critically lead, think, and live humanely.
Wabash Democracy & Public Discourse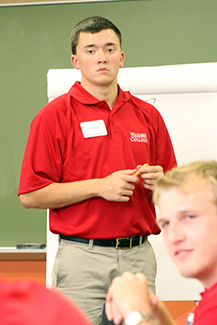 The right to free expression is a necessary component of democracy. Through WDPD, students learn to participate in and lead deliberation, discussion, debate, and advocacy to better cultivate the thoughtful exchange of ideas on important public concerns.
Specifically, we:
Teach

constructive practices of engagement and communication on topics of community concern.

Stimulate

productive public discourse on campus and in the community through informed discussion, debate, and deliberation.

Develop

civic leadership through participation in public life.

Promote

the free speech rights and responsibilities for every individual in the marketplace of ideas.
Global Health Initiative
You spend hours in the classroom studying economics, sociology, language, ethics, and biology. Where can you put all this coursework into practice?
Global Public Health issues are at their essence multidisciplinary. The mission of the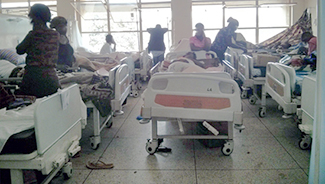 Global Health Initiative is to transform the lives of our students through global public health education, investigation and service and in so doing to effect positive change in underserved communities globally.
Learning about and addressing these issues require that we examine them from multiple angles or perspectives; arguably, it requires a liberal arts approach to the issues.
Our students are educated about multidisciplinary global health problems through the classroom and study abroad experience; by investigating patterns of infection and transmission and engaging in public health research; and participating in service-learning or course-related community development and research projects related to global public health as a way for them to learn and to help address these problems.

Center for Innovation, Business & Entrepreneurship
The Center for Innovation, Business & Entrepreneurship program teaches students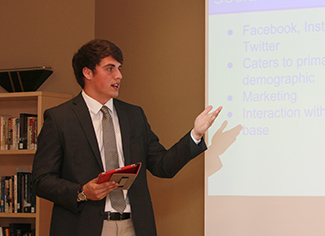 entrepreneurial and business skills and provides the tools to be innovative business leaders. A liberal arts degree provides a student many different paths into a business career.
The CIBE provides multiple resources for students: research, internships, immersive experiences, project management and general management opportunities that are designed to groom them for life after Wabash.
Key Objectives
Comprehensively prepare and enable students from all majors and disciplines for significant leadership positions in the economic and civic life of their communities

Provide students with the real-world experiences they need in business through hands-on training outside of the classroom

Empower students to create and develop new and innovative business opportunities and to expand meaningful career opportunities for themselves and others.
The CIBE offers several competitive programs including one- and seven-week intensive immersion experiences, consulting opportunities, internships throughout the state of Indiana, and management training.
Digital Arts
Wabash College's Digital Arts and Human Values initiative seeks to advance our understanding of how digital media and its congruent culture can reflect and shape our values constructively for the enrichment of society.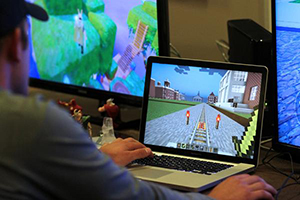 The Digital Arts and Human Values initiative is part of a broader investigation of creativity across the liberal arts, and serves as a nexus for on-campus projects, symposia, collaborative research, and other outreach opportunities.
A key component of this program is three artists-in-residence working productively with students and faculty. We will identify vital human issues or questions affecting our community that the liberal arts are best positioned to reflect and act upon. For example, how do the creative arts challenge who we are and how we live as citizens? How can we be human in a digital age? What does it mean to be a real man in an age of avatars?
Digital media, frequently interactive by design, are the new frontier of human expression. They can entertain, but they can also function as frameworks for ethical inquiry. They can explore relationships among human beings, and their interactive nature can make them evocative mirrors for self-examination, empathy, and understanding. These human values are central to the mission of the liberal arts, as they foster an inclination to see horizons and beyond borders.