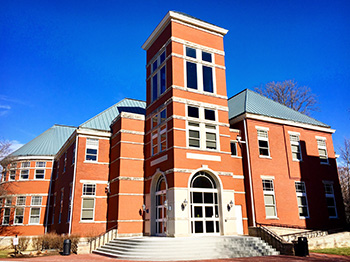 The temperature topped 50 degrees on Friday, Jan. 26.
The sun shone brighter across the Mall than it had all week.
Afternoon classes were canceled.
Yet, the Detchon Center was full – from the classrooms to International Hall – as the Wabash College community gathered to support the 80 students presenting at the 18th Celebration of Student Research, Scholarship, and Creative Work.
Students piled into rooms where the topic being presented may have been was completely foreign to them, but the student presenting was a fraternity brother, a classmate, or a teammate.
Members of the track-and-field team knew they wouldn't have much time between the Celebration and their 6 p.m. meet, so, not wanting to miss anything, they came in their track suits.
Hayden Baehl '18 held up a phone the entire time his friend Sam Gellen '18 presented so that Gellen's mom could watch her son's presentation via FaceTime.
"Each year, when the tables are turned and our students have the opportunity to become teachers, it is apparent that these young men are doing original and invigorating scholarship," Wabash College President Gregory Hess said. "The fact that their classmates and peers show up in such large numbers simply underscores the brotherhood that bonds all Wabash men together."
Senior Patrick Jahnke's favorite part of reading his original short story click "Click," was looking out into the audience and seeing almost all of the English professors there in support.
"It felt great," he said. "All of the English professors know my work, but not all of them know this work. So being able to share my story with the professors who have taught me over the years is really remarkable."
"I love the Celebration because it is a day when so many people can be proud of their scholarly and artistic achievements," Dean of the College Scott Feller said. "I see great pride in our students for their presentations and great pride in the faculty mentors who have guided this work. And, personally, I feel great pride in this display that highlights the very best of our academic program."
Jahnke's story focuses on a yo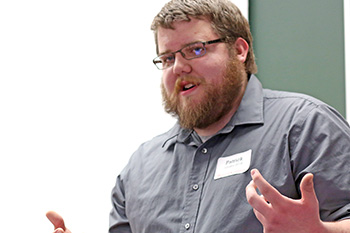 ung man with a love of photography who accompanies an older blind gentleman on daily walks and was published in Spring 2017 edition of Adelaide Literary Magazine.
"Reading it in front of other people was much more nerve-wracking than the publication process," he said, "And it also feels much different than the writing process because, when I'm writing, I'm in my own little bubble. When I'm reading it, there are a lot of people out there who have their own thoughts that are probably different than mine."
Associate Professor of English Eric Freeze praised Jahnke's presentation.
"He's a fiction writer with a poet's sensibility and lyricism," Freeze said, "and this piece is truly his breakout work."
While some of the speakers' audience filed out and moved on to the next presentation they wanted to see, most people made an effort to give out a high-five, a handshake, and even a hug.
Visiting Assistant Professor of Political Science Lorraine McCrary summed up the annual event well by saying it lives up to its name; it really is a Celebration.