Wabash College celebrates the contributions of its men to society as part of its Homecoming Weekend festivities, which began Thursday.
The weekend began with Chapel Sing, one of Wabash's most cherished rites of passage in front of Pioneer Chapel. Members of the Class of 2018 are tested on their knowledge of the words to "Old Wabash," one of the nation's longest fight songs.
Click here for a complete schedule of Homecoming events.
Alumni take center stage on Saturday, Sept. 27, with a multitude of activities. Primary among those is Homecoming Alumni Chapel, which begins at 11 a.m. in Pioneer Chapel. The National Association of Wabash Men general meeting, which celebrates the spirit of Barney Hollett '36, recognizes alumni service winners:
Jeremy Wright Young Alumnus Award: Jeremiah C. Bird '00, co-founder 270 Strategies; Chicago, Ill.
Fredrick J. Urbaska Civic Service Award: Ray W. Jovanovich '84, philanthropist; Dyer, Ind.
Clarence A. Jackson Career Service Award: James Dimos '83, attorney; Indianapolis, Ind.
Frank W. Misch Alumni Service Award: Dudley A. Burgess '64, vice president AT&T; St. Charles, Ill.
Honorary Alumni: James G. '50 and Susan F. Smith '75, president and owner of H-C Industries; Crawfordsville, Ind.
Honorary Alumnus: Herbert J. Stern '62, founder, Off The Grid Press; Somerville, Mass.
Alumni Admissions Fellow: Jeffrey M. Soller '12, teacher; Houston, Texas
Alumni Admissions Fellow: Oscar Torres '01, teacher; McAllen, Texas
Career Services Fellow: Martin T. Brown '06, entrepreneur; Indianapolis, Ind.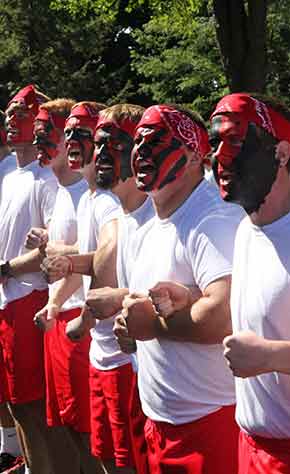 A noontime luncheon celebrating leadership and the generosity of the Annual Fund's support of Wabash students follows in the Allen Center, prior to the 2 p.m. football game vs. Allegheny in Byron P. Hollett Little Giant Stadium.
The Little Giant football teams of 1979-81 will be honored at halftime of Saturday's game in recognition of "The Streak," that three-year period of domination where Wabash went unbeaten in 24 consecutive games.
The weekend is capped by the Homecoming Concert in the Fine Arts' Salter Hall. Come listen to the Wabash College Glee Club at 7:30 p.m.
School spirit will be front and center Saturday morning, as student living units build and display Wabash-themed Homecoming decorations in the annual float competition.