There is no better tonic for a disappointing loss than a win in the Monon Bell Classic. The Little Giants lost an automatic NCAA playoff berth last week but Saturday claimed that old railroad Bell for the fifth straight year with a 38-21 win.
"Obviously, this game is critical," said Coach Erik Raeburn "All losses are devastating but a loss in the Bell game is 10 times worse. I'm happy for our players, our students and our fans. This is important to everybody, particularly for our seniors to be able to say they graduated with a 4-0 record. Students can say they got to celebrate four victories in the Bell game and that is an important thing."
Read how alumni appreciate Monon Bell wins.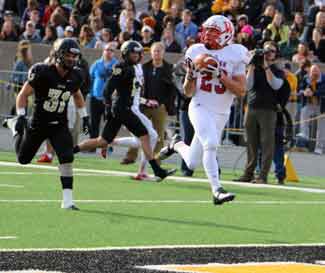 The Little Giants (9-1) returned to recognizable form from the game's first snap. DePauw (4-6) couldn't gain a yard in three attempts and had to punt the ball away. Wabash rolled out a little razzle-dazzle with quarterback Michael Putko handing the ball off to receiver Drake Christen who then tossed the ball to Sean Hildebrand running the opposite direction. The senior wide receiver waltzed into the end zone thanks to a nifty quarterback block, 7-0.
But the Little Giants were far from done in the first quarter. On their next possession Jon Laird beat the Tiger secondary deep and was hit on a wide-open 64-yard scoring pass. Hildebrand did it again with a 26-yard catch just before the first period ended.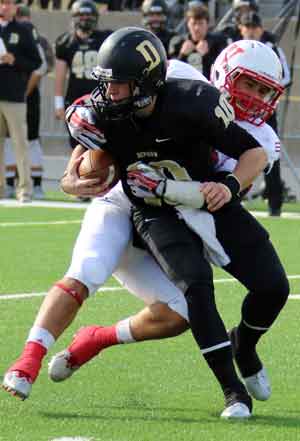 The dominant defense and quick strike offense gave Wabash complete control from the start.
"They were playing extremely aggressive and were jumping on the shorter routes," Quarterback Putko said. "We were able to throw behind them. (On the Laird score) I bought myself a little more time, the safety came up and Jon just snuck right in behind him."
Raeburn was really pleased with his sophomore quarterback's play. "Getting the passing game going in that first half was critical," Raeburn, now 5-1 in Bell contests, said. "We expected them to try to get as many guys in the box to stop the run as possible. But when you do that there is a lot of field for those guys in the box to cover. We were able to get some guys loose a couple of times and get receivers behind them. Michael did a great job finding them today. I thought he played his best game today."
Putko was 21-of-29 for three touchdowns and 296 yards. The primary recipient was Hildebrand with 10 big Bell catches for 125 yards.
"Last week was a big disappointment and it kind of channeled over to practice," Putko said. "But all week long we tried to focus on the next game. That was our motto all season. We're lucky to have such a huge game after last week to redeem ourselves. It's extremely important to me. My goal here is to go 3-0 as a starter and win the Bell. It's carrying on the tradition. I don't want to be the one to let it go."
Read about Hildebrand and Laird's big day..
The first quarter set the pace then the Little Giants piled on to start the second. James Kraus caught a 13-yard Putko pass and the fans were rocking with Wabash up 28-0. DePauw got its first score of the game midway through the second period on a Matt Hunt to Barry Flynn connection for four yards.
But the Little Giants responded before halftime with a 1-yard Grant Klembara plunge, 35-1.
The tempo slowed in the second half. J.D. Robinson caught 6- and 38-yard Hunt passes for scores, wrapped around an Ian MacDougall 43-yard field goal.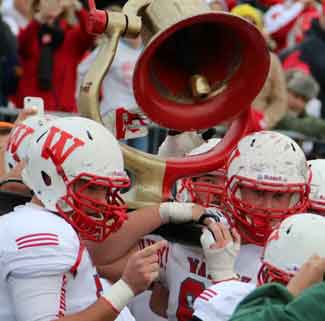 Wabash notched 27 first downs to the Tigers' 11. The Little Giants had 170 yards rushing to DePauw's 58. Putko's 296 passing yards nearly doubled Hunt's 172. Wabash had 466 yards of total offense to DePauw's 230.
"I think we shot ourselves in the foot a lot last week," said offensive lineman Nathan Brock. "In this first half we came out and did what we usually do. In the second half, it wasn't always pretty but we got the Bell for 365 days baby."
Cody Buresh had another big day in an opponent's backfield. He recorded seven tackles, a sack, and four tackles for loss. Eddie Cmehil and Nate Scola had six stops each. A.J. Akinribade added five stops
"We wanted to go out and redeem ourselves for what happened last week," Akinribade said. "We came out here and let all our frustrations out. We moved on during the week and focused all our attention on DePauw because this is bigger than a football game."