Co-workers, friends, and students gathered Monday to bid farewell to long-time Financial Aid Director Clint Gasaway, who will begin a new career at Claremont McKenna College April 1.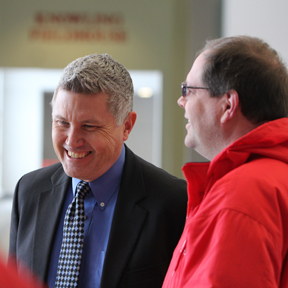 Gasaway, a 1986 Wabash graduate, completed his 27th year of service to his alma mater. He started as an Admissions counselor immediately after graduation and later became the College's Financial Aid Director.
See pictures from the reception here.
Dean of Admissions and Financial Aid Steve Klein paid tribute to Clint's service to the College, and referred to him as friend, colleague, and teacher. The two have worked side-by-side since Klein's arrival as Dean in 1997.
"Today we bid you farewell," said Klein. "This is not goodbye. "Your daughter still has another year at DePauw, you have friends in Crawfordsville, you still have to sell a house, and you're an alumnus who will be returning for reunions. We will see you again and we look forward to that. But today we wish you well in your new position."
Laura Frye, who has worked closely with Gasaway in the Financial Aid Office, got emotional as she paid tribute to him as a colleague and friend. Frye has assumed the position of Director of Financial Aid on an interim basis.
In his work as an Admissions officer and as Director of Financial Aid, Gasaway played a role in more than 6,000 students matriculating to Wabash, and helped the College set records for the largest classes enrolled and most applications received. He's been responsible for packaging more than $50 million in scholarships and financial aid to the men of Wabash.
Clint and his wife, Jean, will make their way to Claremont later this week. Their daughter, Alex, is recovering from knee surgery after helping the DePauw University women's basketball team win the national championship two weeks ago.