After nearly three years on the job as Indianapolis Mayor Greg Ballard's Chief of Staff, Wabash alumnus Chris Cotterill '99 has decided to leave the office to return to the private sector. Stepping into the post is another Wabash man, Ryan Vaughn '00, who is an attorney at Barnes and Thornburg and serves as a City-County Councilor for Indianapolis and Marion County.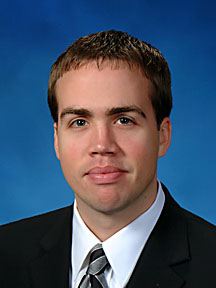 "I am so proud to have Ryan join our administration. As a former President of the City-County Council, deputy prosecutor, and attorney, our city is very fortunate to have Ryan continue his public service in this new capacity," said Mayor Ballard. "Ryan has been a key partner in our efforts to balance the city's budgets, reduce crime, invest hundreds of millions of dollars in our neighborhoods and make Indianapolis a more livable city."
At just 34 years old, Vaughn brings a lot of experience to the position. He was first elected to the City-County Council representing District 3 in 2007 and has served as its president. He resigned from Council post on May 1.
"To serve the Mayor of Indianapolis as his Chief of Staff, and before that as the Corporation Counsel, has been an incredible opportunity for me," said Cotterill. "I have so enjoyed working each day to turn the challenges we face as a community into great opportunities and real results for the City of Indianapolis. At various stages throughout my career, I have realized just how well Wabash College prepared me to handle different roles and responsibilities, and today is yet another day I am hit with that realization. I don't think it's any surprise that the most qualified person to continue Mayor Ballard's reforms is another Wabash Man. I could not be happier that Ryan Vaughn is my successor."
At Barnes and Thornburg, Vaughn has been a member of the firm's Governmental Services Department concentrating his practice on legislative issues, including policy development, analysis and negotiations on local, state and federal levels.
The former political director for the Marion County Republican Central Committee, Vaughn was responsible for creating policy, media relations, and committee's voter integrity program. He also spent three years as a Marion County Deputy Prosecutor, a position in which he prosecuted all levels of crime.
Cotterill leaves Mayor Ballard's office having negotiated one of the biggest utility deals in city history. He brokered a $1.9 billion deal with Citizen's Energy, which transferred the city's water and wastewater utilities to the private firm, and shepherded the transaction through the City-County Council and Indiana Regulatory Commission.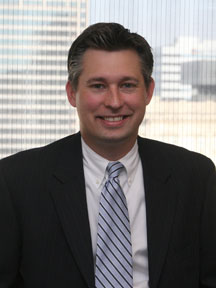 "Chris Cotterill's leadership on the Citizen's Energy transaction will save ratepayers hundreds of millions of dollars," said Mayor Ballard.
Cotterill joined Ballard's administration as Corporation Counsel in 2008 at the age of 31, and in that post managed the city's consolidated legal services department comprising 50 attorneys, paralegals, and staff. Cotterill is credited with overhauling the equal opportunity program to better prevent discrimination in the city, spearheaded the adoption an ethics reform package, increased prosecutions against civil code violators, and reduced outside counsel expenses by several million dollars.
As Chief of Staff, Cotterill led discussions with the Indiana General Assembly to enact the Mayor's reform efforts, Unigov2.0, and served on the executive committee of the Super Bowl XLVI Host Committee as the primary contact for the city.
Both Wabash graduates have been featured in the Indianapolis Business Journal's "40 Under 40," and Cotterill was the youngest lawyer featured in the Journal's "Who's Who in the Law" in 2011.
While at Wabash, Vaughan was a talented student-athlete who earned three varsity letters as a member of the College's swimming team. He was a speech major, member of Phi Kappa Psi fraternity, and graduated cum laude. He earned his law degree in 2003 from the Indiana University School of Law – Indianapolis.
Cotterill served as editor in chief of Wabash's newspaper, The Bachelor, for three years. He was president of his fraternity, Delta Tau Delta, and was elected president of the Student Senate. A history major at Wabash, he earned his law degree from Indiana University Maurer School of Law, where he was editor-in-chief of the Indiana Journal of Global Legal Studies.
"I often joke that service in my administration is like the 'Hotel California' you can check out any time you like, but you can never leave," said Mayor Ballard. "That is true in the case of Chris Cotterill as I will continue to seek his advice and service in other ways for the betterment of Indianapolis."