The Wabash College chapter of the Fraternity of Phi Gamma Delta brought home top honors at the fraternity's "State Day" in February.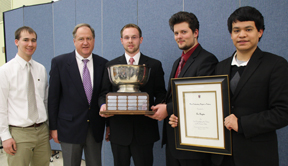 Psi Chapter earned the Beta Cup as the top undergraduate chapter in Indiana, which was one of five first place awards. Senior Tyler Wade was named Best Member in the State for his outstanding leadership on campus.
"Psi Chapter's performance at State Day is reflection of the cabinet's hard work this year," said Chapter Advisor and Professor Dan Rogers. "The chapter revamped pledge education and made sure that scholarship was a first priority. Both the freshmen and upperclassmen have performed at the top of their game this past year. Winning the Beta Cup for best chapter in the state of Indiana is a sign of the chapter's progress and the cabinet's leadership."
State Day, held in Indianapolis, is a leadership development and brotherhood enhancement program sponsored by the international fraternity and focused on the eight chapters of Phi Gamma Delta in Indiana.
In addition to the top prize, the Wabash chapter earned first place awards in Pledge Education Program, Recruitment, Graduate Relations, and Campus Involvement. It received second place in scholarship and second in Most Improved Chapter.
"I'm happy for our men of Phi Gamma Delta and their outstanding leadership team, including alumni and faculty advisors, on this award," said Wabash Dean of Students Mike Raters. "The men have worked hard to meet the high academic standards and fraternal principles set by their national chapter and furthered by generations of Wabash Fijis. This award is a testament to their commitment to those high expectations and those of the College. I'm proud of their accomplishments."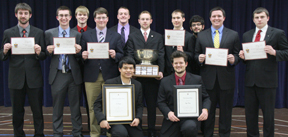 "What really helped us out this year was the risk management practices, and subsequent attendance and safety at FIJI Island; our 'Custom Psi' brother education following initiation; our hosting of groups of brothers from eight different chapters last year; and the attendance of 10 Psi brothers at the chartering ceremonies of new FIJI chapters," said recent past-president Cameron McDougal. "These items were the unique things that set us apart for the Beta Cup.
Most members of the newly initiated Freshman class attended State Day, as well as current officers and past fraternity leaders.
"Our new initiates spent the day in various leadership sessions, and then had a great discussion upon return to campus regarding how to put this knowledge to use," said McDougal.
Dr. Rogers also praised the students on their ongoing efforts to improve relations with alumni. "The students have made great strides in graduate relations," he said. "They were recognized for their well-organized and attended Pig Dinner [graduate reunion dinner] and for reaching out to the Schroeder family and holding a special memorial service for John H. Schroeder '42 and brother of Psi who passed away last April."
The Beta Cup will be displayed in the Psi Chapter library. McDougal said he hopes it serves as a constant reminder for the brothers in the coming year.
"The guys in the house are all very excited. While 'not for the applause of men,' having the Beta Cup should provide us with a great boost of morale, which will make it easier for us to move up to the next level of excellence."
Awards received by the Wabash College Psi Chapter of Phi Gamma Delta at State Day:
Pledge Education: 1st
Recruitment: 1st
Graduate Relations: 1st
Campus Involvement: 1st
Scholarship: 2nd
Most Improved: 2nd
Best Member in the State: Tyler Wade '12
Beta Cup for the Top Chapter in Indiana: 1st