Wabash College head football coach Erick Raeburn has been selected to serve as the offensive line coach for the 2011 U.S. Men's National Team, assembled by USA Football. The team will compete July 8-16 in Austria among a field of eight national teams spanning four continents at the International Federation of American Football (IFAF) Senior World Championship.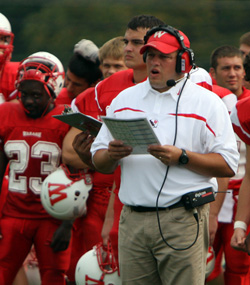 Raeburn is one of 10 members of Team USA's coaching staff, led by former Northwest Missouri State University head coach and three-time NCAA Division II national champion Mel Tjeerdsma. U.S. Men's National Team players must be at least 20 years old.
Fifty-nine countries across five continents possess national football federations dedicated solely to football.
USA Football is the sport's national governing body in the United States and is the official football development partner of the NFL and its 32 teams.
Raeburn is 27-6 (.818) in three seasons at Wabash and 84-32 (.724) overall, which includes eight years as the head coach at Coe College in Cedar Rapids, Iowa. He became the first coach in Wabash history to lead the Little Giants to back-to-back NCAA Division III postseason berths (2008-09). The Diamond, Ohio, native also was an assistant coach at his alma mater Mount Union College for six seasons, working under Team USA offensive coordinator Larry Kehres.

"I'm excited about the chance to represent our country and to coach this team," Raeburn said. "This also is a tremendous opportunity to learn from some great coaches."
Tjeerdsma led Northwest Missouri State to a 183-43 (.810) record in 17 seasons at Northwest Missouri State. He was among the first three coaches inducted into the NCAA Division II College Football Hall of Fame before retiring in 2010.
"These men are excellent teachers and football coaches. Our players will enjoy playing for them and I look forward to working beside them," Tjeerdsma said. "We will be well prepared to compete against the world's best in football in Austria."
Forty-five (45) U.S. players will take part in a training camp June 28 to July 4 before departing for Austria. As the sport's national governing body, participation in USA Football's national team program does not affect NCAA eligibility.
The United States is part of Group A along with Australia, Germany and Mexico. Group B includes Austria, Canada, France and Japan. A round robin schedule in group play determines who will compete for gold and bronze medals.
For more information see: