Five Wabash men and one future Little Giant worked together successfully to stain a Playhouse and paint some playground equipment at The Villages in Indianapolis.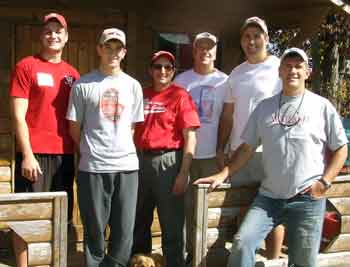 The Villages provides services such as, Foster Care, Adoption, quality Child Care and Early Childhood Development Services at this Indianapolis location. The state-of-the-art Center also provides Child Care Services to children six weeks old to kindergarten age.
This is the sixth year that we have completed various projects at The Villages including painting interior walls, spreading mulch throughout the playground area and painting the playground equipment. Denise Ferrell, onsite Director at The Villages stated that our work over the last six years has saved The Villages thousands of dollars and that these savings will help those that are less fortunate to continue to utilize the child care services that The Villages are able to offer.
Pictured left to right: Ty Benefiel '08, Grant Benefiel '16, Jon Pactor '71, Joe Pfennig '82, Kevin Benefiel '81 and Wayne Bewley '85 and the hardest working Little Giant…Keynes (with his tongue hanging out)