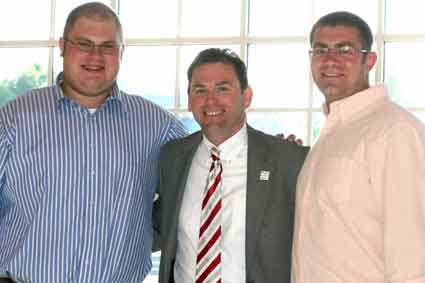 Two Little Giant football teammates and magna cum laude graduates were co-winners of one of the College's top awards for seniors while a medical-school bound chemistry major took home the other during Saturday's Dean's Breakfast in the Knowling Fieldhouse.
See photo albums from the morning here and here.
Stephen "Skip" Tokar '10 and Chad Sorenson were named winners of this year's Frank Hugh Spark Award for All-Around Student Achievement by Dean of Students Mike Raters '85, adding that this was the first time since 2006 that the award had co-winners. The Sparks Award is given to a senior who has done the most "to promote the true spirit and purpose of Wabash College."
Jonathan O'Donnell '10 received the John Maurice Butler Prize from Dean of the College Gary Phillips. The Butler Prize is awarded to the senior "having the best standing in scholarship and character." O'Donnell, who won the Phi Beta Kappa Prize earlier this year, is a Commencement Speaker and will graduate summa cum laude on Sunday. He begins his studies in medicine at Duke University School of Medicine this fall.
Tokar and Sorenson are teammates on the 2010 NCAC Champion Little Giant football team and Tokar, and economics major, won the Indianapolis Association of Wabash Men Athlete Award in April. Sorenson, who recently returned from presenting his research with Professor Lon Porter to the American Chemistry Society Annual Meeting in San Francisco, plans to study medicine.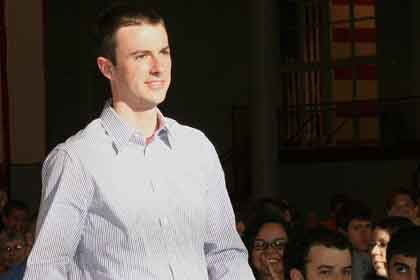 Following the awards presentation, Dean Phillips spoke to seniors, urging them to "hear your Wabash education as a summons.
"Listen intently for the peal of Caleb Mills' bell as President White rings you out, the sound that called you into the College four years ago and now beckons you away as Wabash gentlemen not just to a career of meaningful work, but also to a vocation of highest responsibility."
Phillips reminded seniors that their Wabash success was not accomplished by them alone, but "through the labor and commitment of others: a parent, grandparent, scholarship donor, alumnus, guidance counselor, admissions counselor, coach, faculty member, fraternity brother, and those many unnamed persons who have worked behind the scenes tirelessly, day in and day out." In that spirit, Phillips asked the staff of the College food service to step out from the food preparation area and stand, and students and faculty thanked them with a round of applause.

Phillips quoted Ralph Waldo Emerson: "Each man has his own vocation; his talent is his call. There is one directions in which all space is open to him."
"I ask you today to listen and to think about what is the one direction where space is now open to you," Phillips said. "What talent calls you?
"A job is what you do to make a living; and a vocation is what you do to make a life. A job is what you do to bring home the bacon; and a vocation, in the words of Parker Palmer, is 'where your deep gladness and the world's deep hunger meet.'
"Wabash has taught you quantitative reasoning, so now let your life add up to something more than yourself," Phillips concluded. "Wabash has proudly taught you to be articulate, so let your life speak. Wabash has taught you to listen, so let your liberal arts learning speak."

In photos: Skip Tokar, Dean of Students Mike Raters, and Chad Sorenson; Jonathan O'Donnell walks to the podium to accept the John Maurice Butler Prize.