As part of the annual Cole Lecture series, Wabash alumnus Jack Sipe '64 addressed the Wabash community regarding one of the world's most debilitating diseases. His lecture, titled "Multiple Sclerosis: Concepts, Immunology, and Development of a New Treatment," explained the process of the disease as well as a groundbreaking treatment that he has helped to create. Dr. Sipe said that he hoped to offer listeners "A brief trip through a complex disease like MS."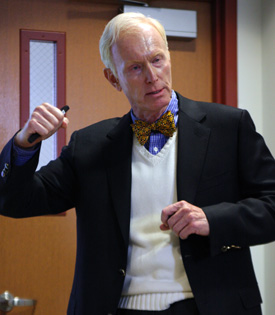 Multiple Sclerosis, Cole explained, is the most common non-traumatic disease of the central nervous system in young adults. While the history of the disease dated back to its description by Dr. Jean Charcot in 1868, and the disease has similarly been reproduced in mice since the 1930s, a great deal of MS remains a mystery. "Despite 142 years of research, both cause and cure of multiple sclerosis remain elusive," Dr. Sipe said.
The disease, Sipe mentioned, begins with some sort of genetic irregularity, sometimes found in a person's thymus development. This irregularity is then triggered by currently unknown microbial infections, which activate autoreactive T and B cells. These cells leak out of the blood vessels of the brain due to an infection. While the leakage often causes permanent damage to the brain due to swelling, the T cells also attack
oligodendrocytes
, which are responsible for maintaining and creating the myelin sheath. Once the myelin, which helps neurons carry nerve impulses, are destroyed, scar tissue accumulates on the brain and a person's movement's and actions become impaired.
Symptoms for the disease vary, Dr. Sipe said, and can include problems with sensory perception, sight, motor skills, bladder instability, and even, in extreme cases, paralysis.
Despite the seriousness of the disease and its long history, Sipe said that there were only six types of treatments currently on the market. All of these are administered through injections which tend to be unpopular with patients.
However, with a little thinking outside the box, Sipe was able to find a new use for an old drug. Dr. Sipe proposed the use of Cladribine, a drug that has been licensed since 1993 as an injection to treat hairy cell leukemia, to treat cases of MS. The drug, which attacks the B and T cells that cause MS, is now in tablet form in a phase III clinical trial.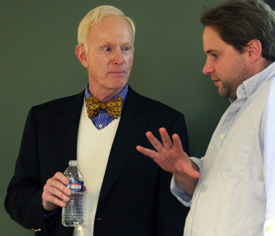 Unlike the injections required by other drugs, Sipe said, Cladribine only required eight to ten tablets one to two times a year. Furthermore, in a recent double-blind CLARITY study conducted by Merck Serono, the developing company, Clabridine tablets were shown to significantly suppress the formation of new brain lesions as well prevent relapses. In the study, Clabridine was also shown to be more effective than many of current available treatments.
Ultimately, Dr. Sipe declared that Cladribine was an exciting breakthrough in MS medication due to its short dosing, consistent efficacy, cost effectiveness, as well as short-term safety. However, in a market with a great deal of competition to get the first oral MS medication to market, the future of the drug's place in history lies depends on approval from the Food and Drug Administration. "We're hopeful that this will be approved by the FDA, but we're not certain yet," Dr. Sipe said of the drug's immediate future.
Dr. Sipe is a Senior Consultant in Neurology at Scripps Clinic and is the most recent speaker in the Thomas Cole Lecture Series. The series is named for Thomas A. Cole, a 1958 graduate and longtime biology professor at the college.
In photos: Top left, Dr. Jack Sipe. Lower right, Sipe with Biology Professor Patrick Burton.