The Wabash basketball team is asking the community to join in supporting the Montgomery County food pantry by bringing non-perishable items to Tuesday's home game versus Rose-Hulman and Friday night's home game against DePauw.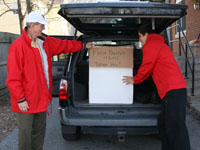 The FISH food pantry has been providing for needy families and individuals in the area for over 40 years. Collection boxes for this year's food drive will be placed in front of the main entrance to Chadwick Court Tuesday and will remain in place until Saturday, December 12. Individuals who will be unable to attend either basketball game can stop by and leave a donation anytime during normal Allen Center hours (6 a.m. to 11 p.m. Monday through Friday, 9 a.m. to 11 p.m. Saturday).
Photo - Head basketball coach Mac Petty and team member Brian Shelbourne '13 deliver donations collected from the 2008-09 FISH Food drive to the local pantry. The Little Giants will once again be collecting non-perishable food items for the pantry during selected home games this season.