Senior quarterback Matt Hudson has been named the 2009 Mike Gregory Award recipient as the North Coast Athletic Conference's Offensive Football Player of the Year.
The Gregory Award is presented by Richard Gregory in honor of his father, who was a multi-sport standout at Denison University in the 1920's.
Hudson also earned the Gregory Award in 2008, making him the sixth NCAC player and second Wabash quarterback to receive the award in back-to-back seasons. This year marks the fifth time in ten seasons Wabash has played football in the NCAC that a Little Giant player has received the Gregory Award.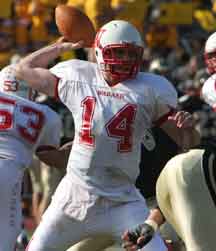 Hudson led the NCAC in passing for the third consecutive season, throwing for 2,516 yards in just nine games. He completed 185-of-233 passes with 25 touchdowns and eight interceptions. Hudson's 169.5 passer rating is fifth-best in the nation. He threw for three or more touchdowns in seven of his nine starts and passed for more than 300 yards four times. Hudson had four consecutive games of 300-or-more passing yards, including a season-high 394 yards at Allegheny. He threw for a season-high four touchdown passes at the University of Chicago while completing 12-of-22 passes against the Maroons. Hudson had at least one touchdown pass in all nine games this season.
A three-time First Team All-NCAC selection, Hudson was 5-0 in NCAC games as a starter in 2009, missing the Little Giants' 37-27 win at Wooster and the 10-7 loss to Wittenberg after suffering a rib injury against Washington University – St. Louis. He helped guide the Little Giants to their third consecutive NCAA Division III Football Playoff appearance, the first time Wabash teams have played in the NCAA tournament in three consecutive seasons.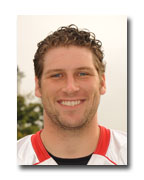 Hudson moved to second in Wabash and NCAC history in career touchdown passes, finishing with 79 in three seasons. His 8,420 career passing yards are also second-best on the Wabash all-time list and third on the NCAC career list.
Former Wabash quarterback Jake Knott '03 won the Gregory Award in 2001 and 2002. Quarterback Russ Harbaugh '06 received the award in 2005.
For more information see: