The Monon Bell has changed hands on last-second field goals, Hail Mary passes, and now, in part, because of a gutsy fourth-and-one that will take its place in Bell lore.
Senior quarterback Matt Hudson led the Little Giants to 32-19 win in Greencastle to bring the trophy back to Wabash after a two-year absence. A packed Blackstock Stadium crowd of just over 8,000 was treated to a back and forth game early before Wabash put two touchdowns on the board in a 1:16 span late in the third quarter.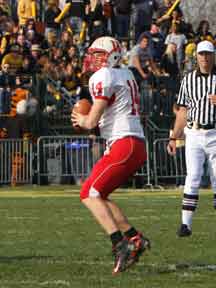 See Jim Amidon's photo albums here, here, here, and here, and more photos from Tom Runge here, and here. There are a few "extras" here.
And there are even more photos. Howard Hewitt's photo album is here. Bachelor photographer Alex Moseman '11 offers up his best shots. Bachelor photographer Drew Casey '12 shares and album.
Wabash (9-1) gets the win over the Southern Collegiate Athletic Conference champion and will await Sunday's NCAA announcements to see if they've done enough to earn an at-large berth. DePauw (7-2) had a playoff spot sewed up but relinquished its two-year hold on the Bell.
DePauw led 7-6 at the half and then the teams traded scores to open the second half, giving DePauw a 13-12 edge after both squads missed two-point conversion attempts. Wabash scored on its second possession of the half when Hudson found Jonathan Horn in the middle of the field. The sophomore made one move, broke a tackle, and raced 51 yards for the score, 18-13.
"We lined up four wide and I was hoping Hudson would hit the throw." Horn said. "I got it in the hole, caught the pass, and just took off. I thought I was going to get dragged down for a moment, but I got in the end zone and was just ecstatic."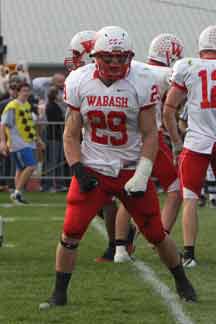 But the next series really turned the tide for Wabash. DePauw was pinned at its own eight-yard line and Wabash's defense was sensing a change in momentum. Following two incomplete Spud Dick pass attempts, CJ Gum broke through the middle of the line and put pressure on Dick that allowed Addrian Frederick to easily pick off the pass.
"Coach called a good blitz," the junior linebacker said. "I was wide open and free, and he had no choice but to release it quick or he knew he was going to get sacked. He released it quickly and we came up with the big turnover."
Just two plays later, Hudson found Wes Chamblee for a five-yard touchdown toss to give the Little Giants some breathing room, 25-13.
The defensive turnaround on that series was a key to the game. "That's all on me if I had dropped that, oh man," said defensive back Addrian Frederick, who was playing his first game since picking off four against Wittenberg. "I just dropped down because Gum was blitzing and somebody got their hands on the ball. I was just in the right place at the right time. The defensive line gets all the credit." The interception was Frederick's eighth, tying the single-season record.
The next two series were decided by inches, which determined possession of the 300-pound bell for another year.
DePauw moved the ball 63 yards on 12 plays, but came up short. Dick's pass to Brady Dalhstrom on fourth-and-11 came up inches short and Wabash took over deep in its own territory.
Hudson then put the team on his shoulders with a 14-play, 92-yard drive that consumed nearly eight minutes off the clock. The key possession of the series came with Wabash at its own 17 and facing a fourth-and-one, a logical punting situation.
But during a time out, Hudson begged Coach Raeburn to let him try a sneak.
"We were going to go for it but I was going to run a different play," Raeburn said. "Matt was begging me to run the quarterback sneak, so I did it and he did the job."
Hudson got enough for that critical first down. He made key hookups with Horn for 30 yards and Chamblee for 16 more, with Tommy Mambourg carrying the ball seven times and scoring on a one-yard run, 32-13.
Raeburn heaped praise on the Salem, Indiana native's Bell bounce-back. Hudson was intercepted four times in last year's 36-14 loss to DePauw.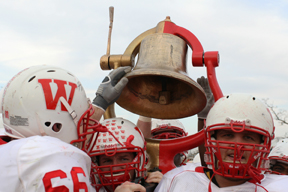 "He stood up after the game last year and he stood up this week to take all the blame for last year," Raeburn said. "Everybody on our team knows that wasn't the case, but I'm really happy he came out and played so well. He played excellent. He deserves a lot of credit. There is a lot of pressure if you're a quarterback in this game, and that shows what type of guy he is and what type of leader he is. I'm really happy he had such a good game."
DePauw would add a score with just 3:23 to play, but Wabash's clock management and recovery of an onside kick attempt had the Little Giants hearing a ring in their ears.
"It feels good, it feels real good," Raeburn said of his first Bell victory. "Last year was a crushing loss … the worst loss I've ever had. It was not just to lose, but get dominated that was tough to stomach. And then you have to live with it for a whole year. But it feels good to get the win, that's for sure."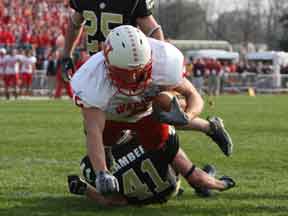 The running game produced 93 yards, most of that coming when the Little Giants were trying to take time off the clock near the end of the game. Mambourg had 42 yards with Hudson picking up 28. Derrick Yoder has 23 yards on eight carries and also scored Wabash's second touchdown.
Horn had the big third quarter touchdown, just his second of the year, but also had something of a coming out party. The 6-3 Carmel, Indiana sophomore had four catches for 103 yards to lead Wabash. Kody LeMond got Wabash on the board with a nine-yard catch in the first quarter. He finished with four catches for 81 yards. Chamblee led the receiving corps with seven catches for 97 yards.
The defense was again led by Gum's big effort. The junior has 12 tackles to go along with the pressure he put on the Tiger quarterback that helped change the game's momentum.
"CJ is a stud," Raeburn said. "You don't want to have the ball in your hands when he is around to tackle you, that's for sure. He's a good football player and he plays hard."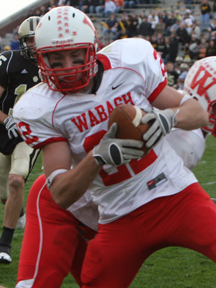 Jake Martin (8 tackles), Chris Schweigel (8), and Frederick (7) keyed the defense. Frederick had missed most of the second half of the season after getting injured against Wittenberg. He was cleared by his physician Monday.
"I knew on Monday I was playing, but there was no doubt," Frederick said. "I started practicing again last Wednesday. They did move the ball a ton but it was so awesome being out there. There was just no doubt in our minds that we were going to win the game today."
Tiger quarterback Dick threw for 380 yards and two touchdowns on 39-of-50 passes, but was intercepted three times. DePauw rolled up 450 yards of total offense to Wabash's 418. DePauw's ability to put together long and methodical drives gave them a 37:28-22:32 time of possession difference.
"We gave them a lot of yards, but they're good on offense," Raeburn said. "Their quarterback is great, they have good receivers, they're good at running back, and their offensive line does a great job. I thought we played well in the red zone and we got a couple of turnovers that were the difference in the third quarter."
The win gives Wabash a lead in the all-time series, 54--53-9.
In Jim Amidon's photos: Top to bottom: Hudson sets to throw; CJ Gum celebrates hit on Spud Dick; the Little Giants grab the Bell; Yoder scores to open the second half; Jake Martin with the interception.