Wabash 3-0 Following Homecoming Win
by Howard W. Hewitt • September 26, 2009

Share:
Wabash College wasted little time protecting its Homecoming win streak, dropping four first-quarter touchdowns on Kenyon Saturday en route to a 62-24 win.
The Homecoming victory was the 14th straight for the Little Giants and improved their record to 3-0 before making their longest road trip of the season. Wabash will be at Allegheny Saturday.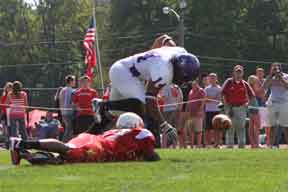 Wes Chamblee got Wabash on the board, catching a 26-yard toss from Matt Hudson. But Kenyon answered quickly when Mike Hermanson found Harry von Kann for a 72-yard bomb over the top of Wabash's defense.
"Other than the big pass play right off the bat, I thought defensively we did a good job," said head coach Erik Raeburn. "He (von Kann) is a great receiver and they caught us in man to man. Their quarterback made a good throw, but other than that I was happy with the way the defense played."
Wabash erased that mistake rather quickly coming right back with a Hudson 11-yard score to Kody LeMond. Hudson scored five minutes later on a four-yard keeper, and then hit a wide open tight end Chad Sorenson in the end zone from eight yards out to make it 28-7.
Hudson, who had a very efficient day with 13-of-16 passing, three touchdowns and 161 yards, liked the start much better than the previous effort at Chicago last week.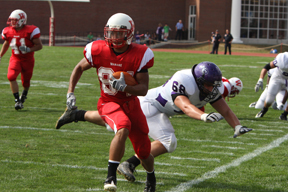 "It was much better actually," he said. "We got out and scored four touchdowns in the first quarter and I definitely felt that was a key. A lot of teams, if you let them hang around, they're going to stick with you."
Last weekend's key players, Tommy Mambourg and Spencer Whitehead, put the game out of reach in the second quarter and opening the third. Mambourg had touchdown runs of 44 yards and 7 yards, while Whitehead remained perfect for the season hitting field goals from 32 and 25 yards.
Mambourg became the first Little Giant running back since 2003 to rush for more than 100 yards in three consecutive games with 149 on 22 carries for a 6.8 yard-per-carry average.
The 45-10 halftime margin had Coach Raeburn in a better frame of mind than the effort at Chicago.
"We just felt like we were a little sloppy last week," the second-year coach said. "We turned the ball over some and we had some busted assignments. We sort of relied on big plays last week and never really got any drives put together. I thought we did much better with execution this week."
Kenyon added a third and fourth quarter touchdown to narrow the final margin on an A.J. Clair 13-yard catch and Kyle Toot's two-yard run.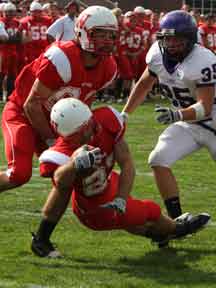 Nathan Walters, an Anderson, Indiana freshman, showed a burst of speed that caught the Lords flat footed twice in the final quarter. He scored on a 17-yard run, then caught a short Josh Miracle pass and raced another 35 yards for the score.
Chamblee, LeMond, Walters, and Sorenson had the TD catches. Jonathan Horn had three catches for 38 yards. Brady Young had two receptions for 20 yards.
The Lords were unable to generate any ground game against Wabash's defense. Kenyon had 39 yards to Wabash's 203. The passing yardage was much closer with Wabash having a 240-239 advantage. The one statistic that won't make any of the Wabash coaches happy was the 12 penalties called against the Little Giants.
Defensive captain Bryan Watson insisted there was plenty of room for improvement.
"We had an early slip up so we tightened everything up," he said. "We just need to do some of the things we've been doing all week in practice."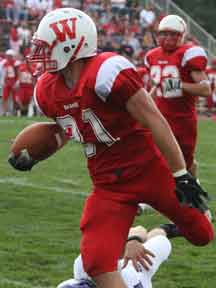 C.J. Gum returned to the lineup after an injury and led Wabash with nine tackles. Sam Smith had six stops while Dan Ryan Wood, Deonte Singfield, Austin O'Neal, James Pannell, and Matt Kraft all had five stops. Addrian Frederick had an interception return for 33 yards to go along with four tackles.

"This is the best quarterback we have faced and the most experienced," Raeburn said. "It was a pretty tough test for our defense. Offensively, we made very few mistakes, unlike last week so I was real happy with our performance."

In photos, top to bottom: Matt Kraft forces a fumble. Wes Chamblee makes a man miss and is off and running. Freshman Nathan Walters goes into the end zone for his first touchdown as a Little Giant. Frederick with the interception return.




Results: Wabash 62, Kenyon 24 Game Stats