Following a junior season where he was named second-team All-North Coast Athletic Conference, Sam Russell set goals for his senior year on Wabash's golf team.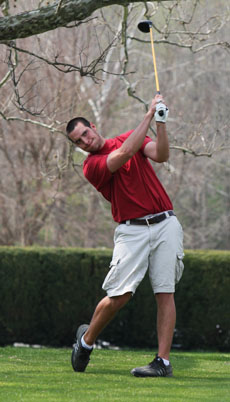 Two months ago, all those goals changed. Now, he's just happy to play.
Russell spent his summer working a job in Wyoming. He decided to spend a mid-July afternoon climbing Teewinot Mountain, which is the sixth highest peak in the Teton Range in Grand Teton National Park, with a group of people.
Once Russell hit the top of the mountain summit, it was hard to find the correct way to go back down. Russell crossed over a snowfield to meet some of the other guys. Russell felt like he had good footing, but slipped and fell 250 feet. Fifty feet of the fall was snow and 200 feet of the fall was rock.
Park officials said Russell took a wrong turn, missing the normal Southwest Couloir descent. He landed on a break between two snow patches while descending the Northwest Couloir at 12,000 feet.
Russell was wearing camprons and carrying an ice ax, but was unable to self-arrest as he slipped. He wasn't wearing a helmet. Rangers were able to land a helicopter and give Russell emergency medical care. They took him to the Jenny Lake rescue center near the Lupine Meadows trailhead and then by ambulance to St. John's Medical Center.
Doctors had to repair between 45 to 50 centimeters of wound around his head and leg area. They also had to remove rock out of his elbows, which he used as defense as he was going down. They also had to put a screw in his left ankle, which he still has.
Through all those injuries, Russell Tuesday was at the Crawfordsville Country Club with his Wabash teammates preparing for this weekend's NCAC Fall Invitational at Ohio Wesleyan.
"I got lucky," said Russell, a native of Springfield, Ohio. "I'm fortunate to be where I am at."
Wabash coach Mac Petty was golfing at the Country Club when he first heard about Russell's injury. Russell was working for the son of Country Club greenskeeper Ed Larson in Jackson Hole during the summer. Larson told Petty of the accident, and he immediately called Russell's dad. Russell's dad, however, was out of town celebrating his father's birthday when he received the news.
Russell was barely able to walk after his fall, and doctors told him there would be no way he would be able to golf this fall. But when Russell went for a return visit on Aug. 11 and doctors saw the progress he made, they said the chances were greater for his return to the links.
Russell got his hard cast off during his August visit, now four weeks later he's on his feet again.
"That was two months it took him to recover from those injuries, that's incredible," Petty said. "And he seems to be in good shape. He's just a super young man, even outside of the golf course. He has great qualities and characteristics and is very humble. He's just a great person to work with."
"The doctors told me that after I got the hard cast off, it would be about six weeks before I would be feeling good again," Russell said. "I'm ahead of schedule, for some reason."
Russell continues to rehab because his triceps were torn up. He also is exercising to strengthen his ankle. Russell started his return to golf by chipping and putting, giving his body more time to heal before taking full cuts. Now, Russell feels like he's back in the same condition the other Little Giant golfers are.
"It feels great to be on the course again," said Russell, who also works on the grounds crew at the Country Club while he attends Wabash. "I was not able to play much in Wyoming, so it would have been about a 10 month layoff from golf if I was not able to play this season, because you can't play during the winter months here. This is probably my last year of competitive golf, so it feels great to be back out here."
Russell didn't miss a beat when he returned to the course this last weekend. He played back-to-back 18 hole rounds Saturday and Sunday, firing a 4-under-par 66 Saturday. Russell shot a 5-under-par 30 on the front nine during that round.
He shot three 18-hole rounds totaling a 208.
"I didn't feel too much discomfort, but I was sore," Russell said. "I want to do well this year, but the best thing now is that I'm out there playing again."
Editor's Note - Russell shot a two-day total of 149 to finish in a tie for third place individually at the Ohio Wesleyan Fall Invitational, part of the NCAC Golf Championship Series.