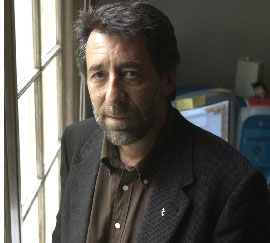 Wabash College will host poetry writer, Scott Cairns, at 8 p.m., Thursday, September 10 in Lovell Lecture Room. He will be reading poetry and prose Thursday evening.
Cairns teaches modern and contemporary American literature and creative writing at the University of Missouri. His poems have appeared in Poetry, The Atlantic Monthly, The Paris Review, The New Republic, Image, Spiritus, and Tiferet, and have been anthologized in Upholding Mystery (Oxford University Press '96), Best Spiritual Writing (Harper Collins '98 and '00), and Best American Spiritual Writing (Houghton Mifflin, '04, '05, and '06). His poetry collections include Compass of Affection: Poems New and Selected (Paraclete Press, '06), Philokalia (Zoo Press '02), Recovered Body (Braziller '98), Figures for the Ghost (U Georgia P '94), The Translation of Babel, (U of Georgia P '90), and The Theology of Doubt (Cleveland State UP '85). With W. Scott Olsen, he co-edited The Sacred Place (U of Utah P '96), an anthology of poetry, fiction, and nonfiction. His spiritual memoir, Short Trip to the Edge: Where Earth Meets Heaven, (Harper San Francisco) and a collection of adaptations and translations, Love's Immensity: Mystics on the Endless Life (Paraclete Press), both appeared in 2007. He received a Guggenheim Fellowship in 2006. His book-length essay, The End of Suffering, will appear from Paraclete Press in November 2009.
In addition to his Thursday evening reading, Cairns will share insights from his upcoming published book, The End of Suffering: Finding Purpose in Pain. The talk will take place at 8 p.m. Friday, September 11 in Korb Classroom in the Fine Arts Center.
Both talks are free and open to the public and are sponsored by the Wabash College Lecture Committee, the McGregor Visiting Artists Fund, and the English and Religion Departments.