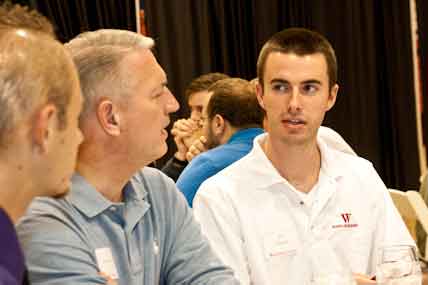 L.E.A.D. stands for Linking Education and Alumni Development. The program is designed to introduce Wabash men to the responsibilities and privileges of being alumni. The overall approach is to link that message into the numerous on- and off-campus experiences of our students.
The LEAD program for the new year started on Sunday evening as the college welcomed the Class of 2012 back to campus. Jim Dimos '83, partner in an Indianapolis law firm of Frost Brown Todd and past president of Wabash alumni board of directors, served as the emcee. President Pat White welcomed the sophomores back to campus and to this event. Jake Knott '03, who is a financial planner with Merrill Lynch and a member of the Wabash Athletics Hall of Fame, was the guest speaker.
Jake's take on the responsibilities and privileges of being an alumnus, and making that transition from being a student, was very straightforward - it boils down to a very personal relationship between students, alumni, and their college. The formula is simple and based upon a shared love of Wabash by alumni and students alike. Add the personal connection between those groups and you have the ingredients to keep Wabash strong and all members of the Wabash community connected.
The Class of 2012 is now included in the Student Alumni Association as they will become Wabash alumni when their class graduates in 2012. For more photos, click here.
Photo: Wabash Trustee Ted Grossnickle '73 talks with Jonathan O'Donnell '12.