Wabash head coach Erik Raeburn and his Little Giant team are not focused on winning their fifth straight North Coast Athletic Conference title. The 2009 squad is looking forward to this year, not back at their previous accomplishments.
"I don't think winning four straight conference championships really means much when you prepare for a new season," Raeburn said. "We watched an outstanding group of seniors work hard to produce four straight conference titles. They provided great leadership and ability. We are a much younger team. Our players this year are not thinking about the previous four years. They're thinking about what they have to do to win a starting spot."
Video - Head Coach Erik Raeburn talks about the first few days of practice this season.
Wabash has an opportunity to reach two significant milestones in 2009. If the Little Giants can repeat as conference champions, they would become the second program to win five straight NCAC titles, tying the mark set by Wittenberg from 1997-2001. Four wins would give Wabash 600 all-time victories, making it one of only six Division III schools and only the second Indiana college to produce 600 or more victories. Notre Dame boasts 831 wins heading into 2009.
OFFENSE
Despite the loss of 22 seniors from the 2008 conference championship team, Wabash returns a large portion of it offense that averaged the 11th-highest point total per game among Division III schools. The Little Giants bring back nine starters and 13 letter winners from the team that topped the NCAC in six statistical categories.
QUARTERBACKS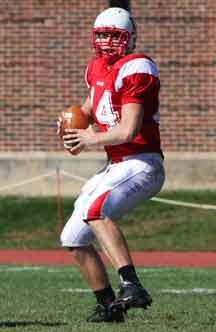 Senior Matt Hudson (6-6, 228) is coming off a season that saw him become the second Little Giant quarterback to throw for more than 3,000 yards. His 3,135-yard, 29 TD effort in 2008 earned him the NCAC Offensive Player of the Year Award. Hudson completed 227 of 354 passes with 12 interceptions while guiding Wabash to the NCAA Playoffs for the second consecutive season — the first time in school history a Little Giant team has gone on to postseason play in consecutive years. A season-best 391-yard, 6-TD effort in the season opener at Denison paved the way for Hudson's success.
"It's a big deal to have your starting quarterback returning," Raeburn said. "This year Matt will be in the second year of our system. He had some experience as a starter heading into last season, but he was also starting all over with a different offense. That's a tough thing to do. He should feel a lot more comfortable at the start of camp this year."
Sophomore Josh Miracle (5-11, 175) played in three games as a backup to Hudson last season with only two pass attempts. Fellow sophomore Daniel Ambrosio (6-4, 190) will join freshmen Chase Belton (6-1, 175), Scott Hunt (6-2, 190), and Vince Kenney (6-3, 195) in the battle for the backup spot.
RUNNING BACKS
The Little Giants used a four-player tandem last season to rush for 2,075 yards and 33 touchdowns as a team. However, three of those four will not be back in the lineup this year. Bobby Kimp and Adam Pilli graduated, and senior Evan Sobecki career ended due to injuries. That leaves junior Derrick Yoder (5-10, 169) as the only returning player to rush for more than 100 yards last year. The 5-10, 169-pounder finished with 478 yards and 7 TDs on 105 carries. Sophomore Isaac Baker (5-10, 191) ran for 52 yards in one game after spending most the year on the junior varsity squad. Tommy Mambourg (JR, 5-10, 192) spent most of the 2008 season as a backup H-back. He could move into the backfield after rushing for 27 yards in 10 tries. Sophomore John Jurkash (5-7, 200) and four freshmen will make up the rest of the running back group.
"I believe the running back position will be wide open this year," Raeburn said. "There will be a lot of guys in the mix competing for time on the field. We have talented players, we just need someone to emerge and take charge of that position. If it doesn't happen, then we will rotate players again like we did last year."
WIDE RECEIVERS/TIGHT ENDS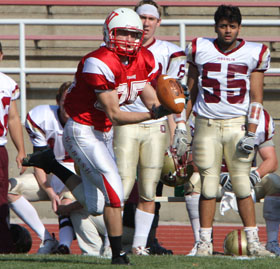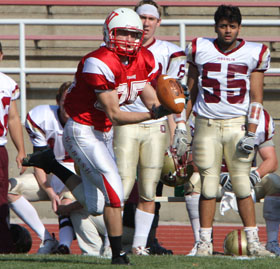 The area of most concern in 2008 has become one of the Little Giants' strengths this season. Kody LeMond (JR, 5-11, 166) set Wabash and NCAC records for receiving yards after catching 73 passes for 1,223 yards, earning him preseason All-America honors heading into 2009. His 14 touchdown receptions finished second all-time in school and conference history. He ranked 19th in the nation in receiving yards per game (102.3). In his first 6 games as a starter, LeMond caught 49 passes for 913 yards and 13 touchdowns, including a 12-reception, 228-yard, 4-TD game at Kenyon.
Joining LeMond as a returning starter is Wes Chamblee (JR, 5-11, 162). Chamblee made 34 receptions for 495 yards and a score in addition to finishing the year ranked 16th in the nation as a kick return by averaging 27.8 yards per return.
Sophomores Brady Young (6-0, 170), Jonathan Horn (6-3, 180), and Adam Miller (6-3, 195) combined for 30 receptions 388 yards, and 3 TDs.
Chad Sorenson (SR, 6-4, 235) split time as a tight end and fullback last year. He caught 5 passes for 60 yards in 11 games. Sophomore Devin Kelley (6-5, 230) and freshman Ryan Sosinski (6-2, 230) complete the depth chart at the tight end position.
"Last year at this time we were scratching our heads as coaches," Raeburn said. "We didn't know who would emerge as our starting wide receivers heading into the first game. We had a bunch of
receivers with almost no game experience. Kody had a fantastic season right from the start. He solidified his spot as one of the top receivers in the conference in that first game at Denison. Wes really showed a lot over the course of the season. He played his best games at the end of the season. We feel good about our receiving corps returning. It's a complete turnaround from where we felt we were a year ago."
OFFENSIVE LINE
Four of the five starting linemen from last season return. Jeremy Morris (SR, 6-6, 303) returns for a fifth season after receiving a medical hardship waiver. The First Team All-NCAC right tackle is joined by another First Team All-NCAC selection, Evan Isaacs (SR, 6-3, 267). Isaacs started seven games at left tackle before a knee injury sidelined him most of the rest of the year. Craig Morrison (SR, 6-3, 252) stepped in to replace Isaacs and will probably move to left guard this year. Senior Skip Tokar (6-6, 310) is back at right guard after starting the last 25 games at that spot for the Little Giants.
All-American center Tony Neymeiyer will be coaching for Wabash instead of playing this year, leaving the key position in the middle of the line to a newcomer. Nate Kring (SR, 5-10, 237), Robert
Campbell (SR, 6-1, 245), Nick Durm (JR, 6-5, 275), Bryan Elliott (SO, 6-1, 275), Jake Shaffer (SO, 6-2, 240), Josh Linthicum (SO, 6-3, 311), Jack Ruddy (SO, 6-1, 275), and Chris Daniel (SO, 6-5, 280) have been practicing at center with a chance to earn a starting spot.
"I have pretty high expectations for our offensive line," Raeburn said. "I think they're a very talented and experienced group returning. I would be disappointed if we make too many mistakes on the line this year. There is no clear cut favorite at the center position. I think we have some talented guys competing at that position. Because of that competition we will end up with a good center."
DEFENSE
Wabash loses two All-Americans in Darryl Kennon and Jared Lange from the front line, part of six total starters who will not return in 2009. The Little Giants will need some fresh faces to step in after finishing 19th in the nation in stopping the run (88.7 rushing yards per game) and 28th in total defense (274 yards per game) in 2008.
"Our line was the strength of our defense last year," Raeburn said. "Having three unbelievable senior players like Kennon, Lange, and Josh Gangloff up front is something you don't see from a lot of football teams.
DEFENSIVE LINE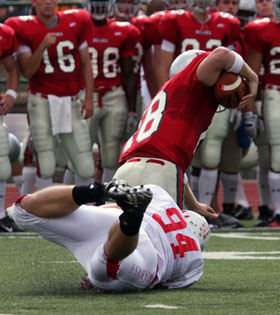 Matt Whyde (SR, 6-3, 233) will be the lone returning starter for the Little Giants up front on defense. Whyde earned Honorable Mention All-NCAC honors last season after recording 38 tackles, 8-1/2 tackles for losses, and four sacks as a junior. Seth Tichenor (SR, 6-5, 254), Kenny Coggins (SR, 6-3, 210), Chris Beedie (JR, 6-2, 252), Zach Brock (JR, 6-3, 240), Jake Kolisek (JR, 6-3, 262), JD McClintic (JR, 6-5, 215), Luke Zinsmaster (SO, 6-2, 200), Craig Austin (SO, 6-5, 215), and Mark Osnowitz (SO, 6-3 202) all spent time in the defensive line rotation for Wabash and should be ready to step into the remaining opening spots this season.
"This will be our most difficult group of positions to replace," Raeburn said. "I think we have a good group of guys who are battling and have worked extremely hard to get playing time. Matt Whyde really proved himself last year. Having him back will give us good experience in practice and can provide some confidence for the guys who will be playing next to him."
LINEBACKERS
The most experienced group of defensive players will be the linebackers. Leading tackler Bryan Watson (SR, 6-2, 224) returns, along with junior CJ Gum (6-2, 230). Watson paced the defensive effort in 2008 with 70 tackles. He added 10 tackles for losses, 2 sacks, and 2 interceptions to receive Second Team All-NCAC honors. Gum was 12th in tackles with 31. The duo will be joined by former two-year starter Matt Kraft (SR, 6-0, 210). Kraft left school in the fall of 2008 after the sudden death of his father before returning for the spring semester. He recorded 86 tackles, 7-1/2 tackles for losses, 2 sacks, 2 interceptions, and 1 forced fumble in 2007.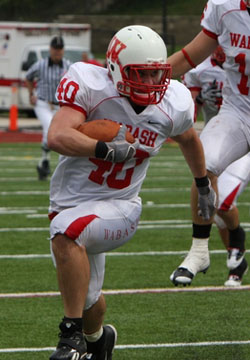 Junior James Pannell (JR, 6-2, 169) is returning from a knee injured that limited him to seven games last year. Jason Eichler (JR, 5-9, 209) saw limited action in three games as a reserve in 2008.
"The linebacker position could be one of our biggest strengths this season" Raeburn said. "Bryan had a great season last year. He has worked very hard in the offseason. CJ has worked hard to improve his speed and agility. Then to get Matt Kraft back is a bonus. Heading into the 2008 season we thought he might be one of our best defensive players if not the best returning. We could end up having a really good linebacker corps."
DEFENSIVE BACKS
Three of last year's starters return in secondary. Addrian Frederick (SR, 5-11, 178) was a Second Team All-NCAC selection after leading the Little Giants with 6 interceptions. Chris Schweigel (SR, 6-4, 205) started every game at cornerback for the Little Giants in 2008, recording 40 total tackles. Junior Dan Ryan Wood (JR, 5-10, 170) earned starts in six of the last seven games at cornerback. He and Schweigel combined for 80 tackles and three interceptions. Jake Martin (JR, 6-2, 186) played in 11 games as a backup safety with two years of varsity experience under his belt. Kyle Najar (SO, 5-11, 167) saw action in six games as a freshman and could be a key player in 2009. Dan Eddelman (SR, 6-2, 181) will also be back after missing all of 2008 with a knee injury.
"We lost some experienced players, but we have a lot of guys back who played very well in the secondary," Raeburn said. "We have a lot of young guys who can compete and fill the shoes of the players who graduated."
SPECIAL TEAMS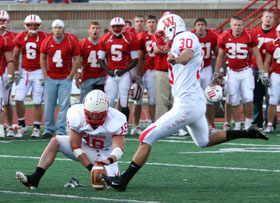 Spencer Whitehead (JR, 6-3, 172) shared kicking duties with Drew Oehler last year, but should be ready to take over the fulltime job in 2009. Whitehead's 41-yard field goal at Wittenberg gave Wabash the win over the Tigers and kept the chances of a fourth conference title in tact. He converted 29-of-31 extra point attempts to go with 2 field goals. Whitehead also handled a majority of the punts for the Little Giants, averaging 36.2 yards per attempt.
"Spencer has to have gained a lot of confidence after making that kick at Wittenberg," Raeburn said. "We know he has a great deal of talent, which is why we sent him out there in that situation. He has the talent to be a very special player."
SCHEDULE
The Little Giants will put their 17-game NCAC winning streak on the line in week one when Denison University travels to Crawfordsville September 12. Wabash travels to Chicago on September 19 for a non-conference game, then returns to celebrate Homecoming against Kenyon on September 26. After the longest road trip of the season at Allegheny on October 3 and a home game against Washington-St. Louis on October 10, Wabash enters the heart of its NCAC schedule.
A home game against Wittenberg on October is followed by road contests at Wooster (October 24) and Oberlin (October 31). The final regular season home game against Hiram on November 7 concludes the conference schedule for the year. The Little Giants will finish their ten-game schedule with the 116th Monon Bell Classic against DePauw University in Greencastle on November 14.
Photos (listed in story order) - Matt Hudson earned 2008 NCAC Offensive Player of the Year honors after leading the conference in passing yards with 3,135.
Kody LeMond was a 2009 Pre-Season All-America pick one year after setting Wabash and NCAC records with 1,228 receiving yards.
Matt Whyde is the only returning starter on the defensive line for Wabash in 2009. He recorded 38 tackles, including 8-1/2 tackles for losses and four sacks as a junior.
Bryan Watson was the leading tackler for the Little Giants in 2008 with 70. He also recorded two interceptions, including this 20-yard return against Denison in the season opener.
Spencer Whitehead's 41-yard field goal at Wittenberg at the end of the game gave Wabash the 13-10 win and kept the Little Giants on pace for their fourth NCAC championship.