Wabash College staff are hosting what might be the biggest Big Bash ever. More than 350 alumni have started arriving on campus. The 50-year class will have the biggest turnout in Bash history with more than half their class attending.
See photo albums here, here, here, and here.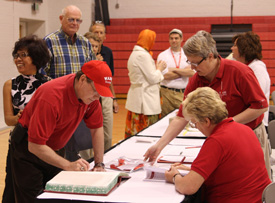 The Friday morning activities included a golf outing at Crawfordsville Country Club, registration, and for many a stroll around the sun-drenched campus.
Another feature at check-in is a $5 raffle courtesy of Michael Bricker '04. He has a bag, which normally sells for $200, he has donated to the college for a Big Bash raffle. The bag is made from the material which created the domed roof over the RCA Dome. Bricker will be doing a 10 a.m. Saturday morning colloquium on his efforts to turn Architecture to Activism.
Colloquies are scheduled throughout Friday and Saturday with one of the big highlights being Saturday's 11 a.m. Chapel Sing. See a complete schedule of the weekend activities here.
On homepage: Suzie Moak checks out her red shirt with husband Richard '69. The Moaks made their way to Big Bash from Valencia, California.