How many guys can say they helped start a corporate management training program and then become a CEO before the age of 35? Steve Mackin '98 has accomplished both goals. He is President and Chief Executive Officer of Cancer Treatment Centers of America at Southwestern Regional Medical Center in Tulsa, Oklahoma.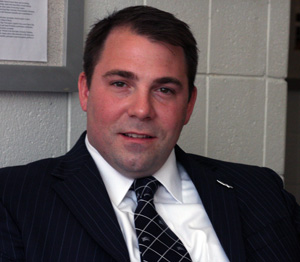 The Bloomington, Illinois, native has never been happy when he wasn't busy. He came to Wabash because he wanted to play baseball and football. He stuck with the football for just a year but was a member of the Little Giant baseball team throughout his Wabash career.
Today he is leading a 42-bed cancer treatment hospital with more than 650 employees. The hospital has a patient satisfaction rate of 98 percent. "It's a large operation," he said. "Our hospital's goal is results. We continue to be able to really recruit top talent for oncology. It's an innovative hospital but it's staffed with extremely caring people."
It starts at the top with a commitment to patient care. "Every week I sit down with patients and do a focus group on how we're doing," Mackin explained. "We begin with a patient coming in and sharing with the board how we're doing. What they like and don't like. It's a hospital built by and for patients."
It's that sort of on-the-job freedom that gets Mackin out of bed each morning. "I feel extremely free to do what I need to do to drive my organization," he said. "There are days where I'll work with physicians for new options, new opportunities. There are days when I dig deep with a patient, understand what they want to do and what they value. Other days I work with the management to make sure our hospital runs efficiently.
"I've been given the freedom to devote my time to those things which I feel will be most impacting on my business. It's dynamic and it fits the Wabash College education. You have to be able to operate on multiple fronts. You have to be able to have a perspective on a number of different challenges."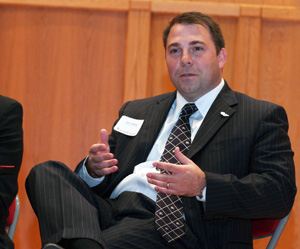 As a matter of fact, Mackin said the Wabash College workload prepared him to be a CEO. "First, it's a competitive campus," he said, after thinking through the similarities. "The students say work hard, play hard, and I think they do that. At Wabash you are forced to figure out how to get a lot done in a short period of time. You have to be able to put a lot on your plate and figure out how you're going to get through it. The ability to take on projects and do a lot well translates to the real world perfectly.
"You can't control what's put on your plate and what emerges each day. At Wabash, when you start first semester your freshman year, you're overwhelmed. They fill up your plate fuller than it's ever been. I think it all forces you to dig into new topics you've never thought about and develop a technique for taking on new topics."
Mackin doesn't flinch when taking on a new challenge. The Beta Theta Pi, English major, left Wabash and started the interview process.  He knew he wanted some sort of company with a two-year managing transitional program. During that process he met leaders in the Cancer Treatment Center of America company. When asked what he was looking for, Mackin didn't hesitate to describe the two-year managerial training program he was seeking. CTCA didn't hesitate and started a program with Mackin as its first student. He would rotate through different hospitals, different areas of expertise in marketing, finance and the hospital's web team. The program took off with more than a dozen graduates today. His first opportunity came in marketing and he worked his way up through the management steps to the CEO position he holds today.
He has a vision for the future of cancer treatment. "The goal is to turn most cancer types into manageable diseases," he said. "What I think will happen is we'll see that this disease is no longer a death sentence and we'll have options for treatment."
He helps shape that future by investing himself in the details and the people who work in his hospital. Mackin said the key characteristic he looks for in any employee is perspective. "What's interesting about healthcare, with all the initials that go behind people's names, they'll default to a mode of expertise for the reason why they're doing something. You always want people with a perspective, thought, especially in oncology. There are always more questions than answers in oncology."
He looks for people he describes as innovative, entrepreneurial, and "won't accept the status quo."
Everything going on at Mackin's hospital suggests a hard-charging attitude.  The Tulsa operation started a multimillion dollar expansion in January 2009, to add 60,000 square feet to the facility.