Wabash College President Patrick White rang Caleb Mills' school bell Sunday to ring out the 195 members of the Class of 2009 under beautiful clear and sunny skies.
The College's 171st Commencement ceremony took place on the campus mall; the setting and conditions could not have been more glorious for College trustees, faculty, students, staff, and particularly the proud parents who traveled from around the world to witness the milestone in their sons' lives.
See photo albums from the commencement ceremony here, here , here, and here. Before and after the ceremony are are plenty of congratulations, hugs, and even a few goodbyes. See photo albums here, here and here. Additional albums here, here, here, and here.  Or, to the music of the Wabash Glee Club see a photo slide show here.
The day started with Father Edward A. "Monk" Malloy, former president of the University of Notre Dame, giving the Baccalaureate sermon to an overflowing crowd in the Pioneer Chapel. See a photo album here.
The afternoon's tradition-rich Commencement ceremony was capped by the presentation of each student's sheepskin diploma in front of the Pioneer Chapel. The school bell used to ring in freshmen and ring out graduating seniors belonged to Wabash's first faculty member, Caleb Mills.
The College has long held that the day's speakers should be students.
Commencement Speakers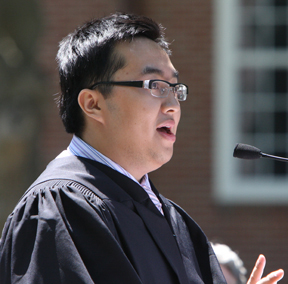 Duncan Hieu Minh Dam of Hanoi, Vietnam and Andy Leshovsky of Saint Paul Park, Minnesota gave the Commencement Addresses before three honorary degrees were bestowed.
Dam talked of arriving as a freshman at a campus he had never seen. He was bewildered by a small town and the knowledge he was unaware the College was all-male until after he had deposited. "It was sounding like a horrible decision for me to come to Wabash," he recalled. "But you can never predict what is going to happen."
His journey started by making new friends, traveling the world, studying in China, and embracing the College's ethic of hard work.  "A Wabash education has prepared us well for jobs, professional schools, graduate schools, and many other things," Dam said. "Wabash definitely knows what we need to succeed in a professional life, and provides us with the best equipment to obtain it."
But he said it was the Wabash community that will have the longest-lasting impact on Wabash men. "Take 10 seconds to look at the people sitting next to you," he told the graduates. "Remember the faces, and if you can, try to recall a few stories about them. These people are your brothers who have always been with you through multiple ups and downs during your Wabash career. Remember these faces because in five years we will see each other again at our first reunion when we are all successful young adults with our college debt mostly paid."
Dam has been a Dean's List student with a major in chemistry and minor in mathematics. Elected to Phi Beta Kappa, Mr. Dam has received the Edgar C. Britton Memorial Award in Chemistry, the Howell Award in Chemistry, and the Underwood Award in Chemistry. He is a member of the Wabash College Glee Club, the Hovey Society, and was a participant in the Celebration of Student Research, Scholarship, and Creative Work. Mr. Dam is the son of Mr. Doan H. Dam and Ms. Thu M. Dao.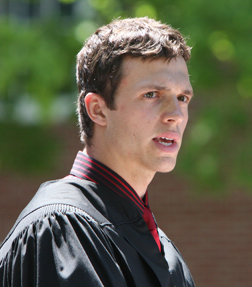 Andy Leshovsky's journey was quite different. He arrived at Wabash with his focus in all of the wrong places. "Academics were at the bottom of my priority list," he admitted. "Partying, playing video games, and sleeping in were much more important."
At the end of his second year he was placed on academic probation and left the College for a year. But he returned to become a member of the Class of 2009 and graduate the day after his 24th birthday.
"I realized that I had the potential to do so much more with my life and was simply wasting everything away," he said. "I felt Wabash was the best place for me to do that. I made a vow to try to live up to my potential each and every day."
He became a chemistry and Spanish double major applying to medical school. He traveled to Ecuador and Spain while at Wabash. "I came here as a young and frivolous boy; I leave an older and wiser Wabash man," he said.
He noted studies that show young Americans will average 10 job changes in their lives and urged the graduates to remember how Wabash has prepared them to tackle challenges.  
"I believe that no matter what happens after we leave here, we will be prepared because we have struggled through the rigors of a Wabash education, because we have been challenged by faculty and peers alike both inside and outside of the classroom … because we have each gone through our unique Wabash journeys … because we have learned to think critically, act responsibly, lead effectively, and live humanely."
Leshovsky received the Howell Chemistry Award and the Norman E. Treves Science Award. He was a member of the Wabash College golf team; served as president of Alpha Phi Omega; and participated in the Ecuadorian Studies Program and the Celebration of Student Research, Scholarship, and Creative Work. He is the son of Duane and Susan Leshovsky.
Honorary Degree Recipients
President White bestowed Honorary Degrees on former Notre Dame President Reverend Edward A. Malloy, C.S.C.; N. Clay Robbins '79, President of Lilly Endowment Inc.; and Max E. Servies '58, former Wabash wrestling coach and Athletics Director. See a photo album of the Honorary Degree Luncheon here.

Reverend Edward Malloy served as Notre Dame President in 1986 and remained in the post for 18 years. Wabash presented him with an honorary Doctor of Divinity degree.
"Your accomplishments as President were many, including completion of a $1.1 billion "Generations" campaign that provided dramatic growth in financial aid and scholarship opportunities for students, massive improvements in the University's facilities, and attracted a more accomplished faculty and the most diverse student body in Notre Dame's history," President White said.
"Today, as President Emeritus, you continue to do what you always have – living among students in a residence hall while teaching a seminar for first-year students. You also continue to be a fierce proponent of community service and substance abuse education, shaping the future of this country by shaping the lives of young people."

Clay Robbins '79 was awarded an honorary Doctor of Laws degree by the College. He was in the first class of Lilly Scholars at Wabash. He majored in religion before graduating from the Vanderbilt School of Law. He joined Lilly Endowment in 1993 and was named its President in 1994. He and wife Amy are the parents of three Wabash men – Campbell '09, Luke '11, Peter '12.
"You have modeled the highest standards of leadership for the Endowment," the President said. "Every college and university in Indiana owes a debt of gratitude to your stewardship and mentoring as you call us all to our highest imagination of what education can mean and do for our state and nation."
The President cited Robbins' civic involvement and leadership and dedication to his alma mater. "You believe that, by investing in schools, churches, and programs that inspire creativity in young people, our state's most troubling problems can be solved by Hoosiers willing to give of themselves."
See a related story on Robbins' honorary degree and sharing a stage with his oldest son here.

Max E. Servies '58 was presented an honorary Doctor of Humane Letters degree. He was a biology major and star athlete at Wabash. He was named the College's first wrestling coach and later athletics director during his 40-year Wabash career. He served as director of athletics from 1965-1998.
Servies is a member of the Wabash Athletics Hall of Fame, Indiana Wrestling Hall of Fame, Division III Wrestling Hall of Fame, and the Indiana Football Hall of Fame.
"As Athletic Director you allowed your coaches to flourish, providing for them excellent facilities, ample budgets, and a hands-off attitude that produced dozens of NCAA top20 national finishes and even more conference championships," White said.
"Of your myriad of accomplishments in that post, you are most proud – and rightfully so – for hiring Wabash's first African American coach and its first woman coach. Today, both Rob Johnson and Gail Pebworth are members of the Wabash Athletics Hall of Fame, a testament to your visionary hiring of them."
Legacies
One of Wabash's strongest and most endearing traditions is sons following brothers, fathers, grandfathers and other men to Wabash College. We honor them in Legacy photos here and here.
Junior Marshals
Jacob N. Grow, a junior biology major from Columbus, Indiana, and Gregory M. Slisz, a junior economics major from Indianapolis, Indiana, served as Junior Marshals.