Graduation weekend ceremonies are underway with the National Association of Wabash Men's Annual Awards Luncheon for service to Wabash College.
Graduation ceremonies will be on the College Mall, weather permitting, at 2:30 p.m. Sunday but a number of activities honoring the graduating class and College employees will proceed the big moment.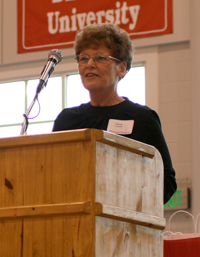 The first is the annual NAWM luncheon to salute retiring members of the faculty and staff along with honoring those with long-term service to the College. Click here to see photos of those honored for service anniversaries.
Friday's program honored 12 Wabash employees who have given 386 years of service. Also honored were three staff members retiring after long service to Wabash. Associate Registrar Sharon Lawton, Director of Prospect Research Mona Clouse, and Administrative Assistant to the Director of the Schroeder Center For Career Development Toni McKinney were all honored as they take their retirement.
Approximately 200 were on hand for the luncheon. Mark Dewart '74, NAWM's Vice President, acted as master of ceremonies for the presentation of awards. He saluted each of the 12 employees being honored for their service. "While the awards take only a moment to present, they recognize the commitment, loyalty, and unwavering service that collectively make Wabash so special," he said.
Those honored were:
40 Years Service
Professor of Political Science, David Hadley
Business Office Cashier Terri Fyffe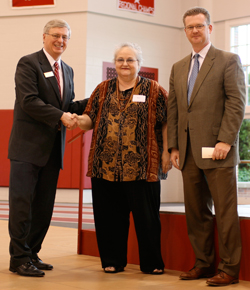 35 Years Service
Professor of Art, Greg Huebner
Senior Administrative Assistant to the Dean of Advancement, Guyanna Spurway
30 Years Service
Professor of Biology, David Polley
Professor of Classics, David Kubiak
Professor of Biology, David Krohne
Professor of Mathematics and Computer Science, David Maharry
Professor of Chemistry, Robert Olsen
Senior Advancement Officer/Coordinator of Volunteer Services, Nancy Doemel
Senior Administrative Assistant to the Dean of Admissions, Linda Weaver
President Patrick White added his personal thanks and congratulations to those marking significant anniversaries and those retiring from the College.
"You we honor today are the faces of Wabash College," President White said. "The students who graduate Sunday, when they remember Wabash 20-30-40 or even 50 years from now, (they'll remember the buildings), but even more they will remember those honored here today."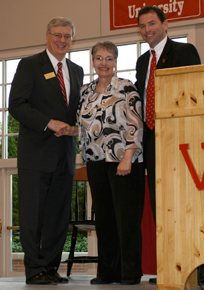 He said that every day Wabash staff and faculty teach students what it means "to be Wabash and to be Wabash men."
Photos: above right Sharon Lawton, Retired Associate Registrar; above left President Patrick White, Retired Director of Prospect Research, Mona Clouse, and Dean of Advancement, Joe Emmick; right President Patrick White, Toni McKinney, Retiring Administrative Assistant to the Director of the Schroeder Center for Career Development, and Dean of Students Mike Raters.