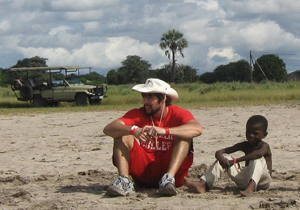 Fourteen students submitted 71 photos to the "Student Life" photography contest hosted by the Public Affairs Office. The first and second place photos were submitted by Nick Durm '11. His photos were both taken during Spring Break in Botswana, Africa. The third place photo was submitted by Filip Lempa '11. His winning photo was taken at the International Students Association Dinner in April.
The photos went through multiple rounds of judging by staff and alumni. When looking at the two photos by Durm, one judge commented, "these images suggest the impact a Wabash man can have on others — on one single child or a large group of children. These say 'Live Humanely' to me."
The outstanding entries will be used in marketing material for the College such as on the website and in admissions publications. "We wanted to see student life from the students' perspective," said Kim Johnson, Marketing and Communications Specialist. "They know what makes Wabash great and they did a terrific job capturing that in their photos."
Photo above: First place by Nick Durm '11.
Photo below left: Second place by Nick Durm '11.
Photo below right: Third place by Filip Lempa '11.